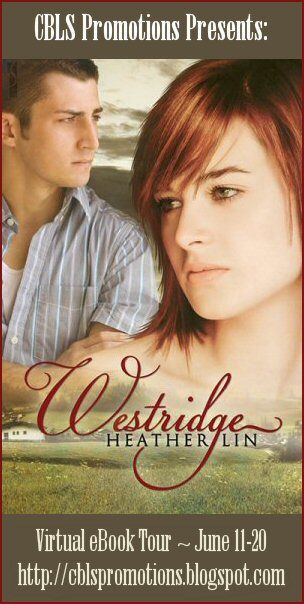 Westridge
by Heather Lin
Published by Silver Publishing
Contemporary Romance
Available at:
Amazon
|
Silver Publishing
Blurb:
Gabby Jones and Jason Dawson were born only months apart in the small, country town of Westridge. For the next eighteen years, they were inseparable, but after their high school graduation, Gabby got on a bus to the city, leaving Jason with a weak explanation and a broken heart. After five years of making it a point to avoid her old flame, Gabby comes home for a funeral and, thanks to meddling parents and circumstance, she and Jason are thrown together again.
But now Jason is an auto mechanic with an ex-wife and a daughter, and Gabby owns a successful flower shop in the city. Even if Gabby is able to admit she still loves Jason, and even if Jason is able to convince her to tell him the real reason she left, will they be able to get past the changes and broken pieces in time to start over?
Excerpt
"What do you mean you can't pick me up?" Gabby Jones asked in disbelief, trying to balanceher purse, suitcase, ticket, and cell phone as she boarded the bus.

"I'll send someone to get you. I'm busy helping with the funeral arrangements," her mother replied.

"What about Dad?"

"He's busy, too. We'll send someone."

"Mom," she said unhappily. "I know who you're gonna send. You can't."

"Oh, you're gonna have to see him at the funeral, anyway. And just because you disowned all of your friends when you moved away doesn't mean I have to."

Gabby had left the small town of Westridge five years ago. In Westridge, the nearest mall was forty-five minutes away, and "got stuck behind a plow" was the most common excuse for tardiness. The kids hung out at Walmart or the diner during their downtime and talked about how they couldn't wait to get away from the stupid small town where everyone knew everyone else's business. They didn't want to be stuck in the same routine, seeing the same people their whole lives, and Gabby had felt the same way -- trapped, bored, insignificant. At least, that's what she'd told Jason two days before getting on a bus to the city and not looking back.

Ever since, she'd made a point of avoiding her old friends whenever she returned to visit her parents. Of course, her mother always updated her on Jason whether Gabby wanted to hear it or not. Mrs Jones had complained about the girl Jason dated after Gabby, discounted their quick marriage, gushed over their new baby, and gloated when they got divorced just a year after her birth. It had hurt Gabby to hear the news, but there was no way she'd ever admit it to her mother. Gabby tolerated her mother's gossip and was grateful she'd managed to avoid her high school sweetheart in person, if not in conversation. But this visit would be different.

Her parents and Jason's had been best friends since high school, and none of them made a secret of wishing Gabby and Jason would get back together. Sending him to pick her up today was a perfect setup. For them. Gabby rolled her hazel eyes in annoyance, even though her mother couldn't see.

"I didn't disown anyone," she said. "I just went on to bigger and better things. People drift apart. It happens."

She found her seat and threw her bags onto the rack above it. Her neighbors didn't look particularly happy about the twenty-three year old talking away on her cell phone, but she ignored them.

"Bullshit," Mrs Jones admonished. Only her mother could make cussing sound like a gentle, motherly act. "You loved it here. You were perfectly happy until--"

"Mom!" Gabby interrupted, not wanting to hear what her mother would say next.

She'd become a master of denial over the years and couldn't handle anyone breaking through the fog of her self-induced memory loss. Her mother sighed. It was a heavy sound, and Gabby didn't like it. It made her seem old.

"You're right. It's fine," Gabby's voice softened. "I'll have to see him soon, anyway."

"It'll be okay, baby. I love you. I have to go now."

"Love you, too, Mom."

She snapped the phone shut and leaned her head back against the seat, closing her eyes to fend off a tension headache. But all she could see was an eighteen year old Jason: blue eyes full of disbelief, face pale, fists balled.

Westridge by Heather Lin
My rating: 3 of 5 stars

First of all, this is your typical romance novel, and I can assure you it will meet the expectations of steamy (but not erotic) and full of romance. Gsbby and Jason are the perfect lovers who are torn apart by something about which Gabby is ashamed. But five years cannot put the fire out between them!

I was not overly impressed by this book--just being honest here. I thought the author wrote a nice little story, and it was very readable. But it was predictable (but never boring). The characters were believable and even had 3-dimensional elements to them. The story leaves a little to be desired. I would have preferred a little more realism.

One technique that Heather Lin does use well is a mild form of suspense. For most of the book, the reader knows of an issue about which Gabby will not discuss. It is a closed topic and the real reason she ran away. Although I basically figured out Gabby's secret (I was somewhat wrong but took exactly the same attitude as Gabby.

I was glad that the profanity did not make an appearance too often, but I felt that this particular language was not necessary. I could have done without the two fairly detailed sex scenes. While nothing was extremely detailed, it was not necessary to explain the act in detail.

I was confused and perturbed about the references to God in this book. It would seem that everyone was expected to go to the little country church, but I didn't see anyone going out of their way to celebrate God/Jesus. It would seem that the church mentioned in the book was more
something that people did because it was part of their culture and just the thing that people did in a small town. The church did not seem to make a difference in people's life, but that is just my opinion.
I received a copy of this book in exchange for my honest opinion. I was not financially compensated, and all opinions are 100 percent mine.
View all my reviews
About the Author
Heather lives in Delaware with her loving husband and loyal cat. She began writing erotic and slightly less-erotic romance in 2008 and hasn't been able to keep her mind out of the gutter since. Her next novel, a futuristic romance called The System, is due out in August from Silver Publishing. Until then, feel free to check out her short stories, which can be found at TheEroticWoman.com, in the Coming Together anthologies, and through New Concepts Publishing. Visit Heather
HERE