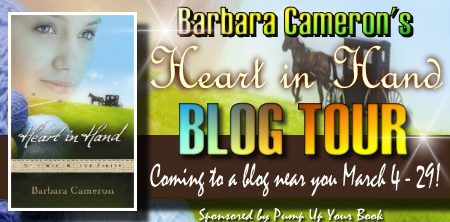 Read more about the book from the blog tour post
here
.
Heart in Hand
by
Barbara Cameron
My rating:
4 of 5 stars
Another clean, Amish romance, and it is mostly enjoyable. It has everything that I have come to expect from Amish books. Simple people living in the old ways. A simple, genuine trust in God. A subdued romance. No profanity, no sex, and completely clean!
You've got to love Anna and Gideon. They are both widowed, and it is neat to see the budding romance between them. But my favorite character is Leah. She is Anna's grandmother, and she doesn't mince words. I was glad to see that when the women got together, not all Amish propriety was followed. That made for some fun times and some different discussions than one might normally find in an Amish book.
I chose to give this four stars because I have to admit that as nice as it was, it failed to capture my attention as other Amish books were. I sometimes found myself getting rather bored. I wanted to know how it ended, and Gideon's daughter is very sweet and fun-loving. It was a quick read. and if you are looking for a quick Amish love story, I would certainly say this is it.
I was sent a copy of this book in exchange for my honest review. I was not financially compensated, and all opinions are 100 percent mine.
View all my reviews