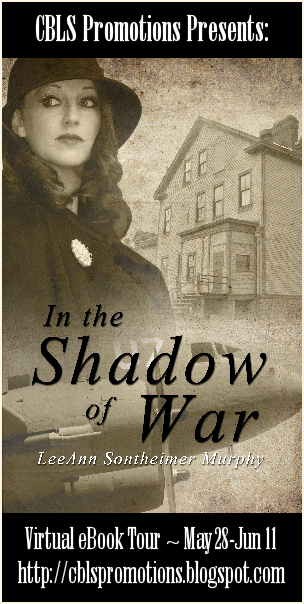 In the Shadow of War
by Lee Ann Sontheimer Murphy
Published by Rebel Ink Press
Historical (WWII) Romance
Blurb:
Her great-granddaughter wants to know if Bette remembers World War II for a school project and her questions revive old memories...
Small town school teacher Bette Sullivan's life was interrupted when the Japanese bomb Pearl Harbor on December 7th 1941 but her world changed forever when she met Private Benny Levy, a soldier from the Flatbush neighborhood in Brooklyn, New York stationed at Camp Crowder, the local Army base.
Their attraction is immediate and mutual but as their relationship grows their love and lives are shadowed by World War II. As the future looms uncertain the couple comes together with almost desperate need and a powerful love they hope can weather anything, including the war.
Available at:
Amazon
|
Barnes & Noble
Excerpt:
"Come on, we can sit here a while if you want," Bette told him, settling her skirts beneath her as she sat on a step. Ben lowered himself beside her, still holding her hand.
"God, this is really something. We've got parks in Brooklyn, some of them nice, but nothing like this. Prospect Park's got a lake and it's great, but nothing like this. Whaddya call it again?"
"Everyone just calls it the grotto," Bette said with a smile. She snuggled closer to him so her dimity dress and his tan khaki shirt touched. His body heat contrasted with the cool of the spring and made her skin tingle.
"It's peaceful," he told her, voice just above a whisper. "It's almost like church. They all told me about the park, how to meet girls here, but no one mentioned this. Thanks, Bette."
"You're welcome, Benny," she replied, his name rolling off her tongue as if she'd used it all her life. Then she recalled he'd said his mother used Benny. "Or do you prefer just Ben?"
Those delightful gray eyes met hers, candid and open. "You know, most people call me Ben and its okay by me. My ma says Benny, my baby name, and so does my kid brother half the time, plus maybe a few old people from the neighborhood back home. I don't think I'd tell anyone else it's kosher but yeah, you can call me Benny if you want."
"Okay, Benny," she said, trying it out again with permission. She liked the familiarity of the nickname because it fit the connection she felt with him. He must have sensed something similar because he put his arm around her and she rested against him, content.
They sat in easy silence for a few minutes, a comfortable time stretching out sweet and comfortable.
"Hey Bette?"
"Yeah?"
Ben Levy faced her and traced the line of her upper lip with one slow finger. The sensation sent shivers through her with his touch lighter than a butterfly's brush.
"Do you mind if I kiss you?"
She ached for his kiss. "If you don't, I'll probably die."
"I'll take that as affirmative," Ben said as he put his lips over hers.
His mouth joined hers with a soft caress evoking a deep tenderness within. He kissed her like a porcelain doll, fragile and precious. Bette's emotions kindled as his lips shifted from sweet to heat and she returned his kiss.
Fever sparked between them with heat and the sweetness of the syrup she'd drizzled over her pancakes. Bette tasted both coffee and his Lucky Strike cigarettes, but she didn't mind. His scent infused her with longing. He smelled like a man, of soap and cigarettes and sweat and just something so quintessentially Ben Levy. She'd kissed a few men, but no other kiss invoked her body and soul the way his did. In his arms, she forgot Robbie claimed her as his girl and half the town believed it, too.
As they canoodled, her arm locked around his neck, one of his hands strayed so it touched her breast through thin fabric of her dress. Bette allowed him the liberty and shocked herself even while she liked it. She wondered just how far they might've gone if a sharp whistle hadn't cut into their consciousness.
"Hey, Jew boy, is this the way you spend Sunday mornings?" a loud voice shouted above them.
Ben released her and turned around, bristling with irritation. "Whaddya wantshmendrick?"
The unfamiliar word confused Bette and she scooted over as Benny found his feet. She feared there might be a fight but the whistler, another soldier, snickered.
"I don't want from nothing," he said, in the same nasal accent. "I just wondered if your shiksa knows you're not pure goy."
Benny laughed and the men embraced. Surprised, Bette stood up brushing her skirt and tugging it down to stay decent. They babbled in a language she didn't grasp putting her on the outside, left out. Her happiness bubble threatened to burst until Benny put his arm around her shoulders.
"Bette, don't think I'm crazy – this is an old buddy from Brooklyn. We went to Erasmus Hall High together. Moses Cohen, this is Bette Sullivan."
"Pleased to meetcha," Moses said with a bow. "Your ma'll like this one, Benny, a good Irish girl. Where'd you meet her?"
"Church," Benny said. The word exited his mouth firm as a pebble. "You keep forgetting I'm really a shagetz."
"You're meshugeneh is what you are," Private Cohen said. "So carry on, Private Levy, as you were."
Church bells from the little Episcopal Church on the edge of the park pealed the hour as the other Brooklyn soldier headed off through the park at speed.
"Its ," Bette said, wondering just what all the talk meant. He'd been at Mass so she wondered how he could be a Jew, too. What she knew about the Jewish faith could fit into one fingernail so she ignored the issues raised and stuck to something safe. "Aunt Virgie's going to put dinner on the table soon. We'd better go."
She didn't intend her voice to sound resentful but it came out sounding like a little girl's whine and Benny stopped her at the top of the grotto steps. "Hey, baby, I know you got questions but it's copasetic. I got answers."
The taut strings around her heart relaxed. "So give them to me."
"I'm Catholic, like you know already. You seen me at Mass. My ma's Irish Catholic as they come, Mary O'Hara with my grandparents in Ireland, still there. But my pop, he was Jewish, Aaron Levy. He died not long after my fifteenth birthday. I'm from a mixed marriage, sweetheart, with a Jewish name and raised Catholic as the Pope."
"Can't you be both?"
"Nope, no dice," Benny said with a wry smile never reaching his eyes. "To be a real Jew, you gotta have a Jewish mama and I don't. So the Jews think I'm Irish, half my Irish relatives figure I'm really a Jew, it's a crazy mess. I'm just me, though, so take me or leave me. I ain't hidin' nothing else. I meant to tell you but Moe beat me to it. So what do you think, Bette Sullivan?"
"I think I like you just the way you are, Benny Levy," she replied, linking her arm through his. Her decision came fast and she'd stand by it. Whatever his heritage, whoever he might be, she meant it. She liked him and she didn't care about his origins. "So let's go eat dinner with my aunt, okay?"
About the Author:
Lee Ann Sontheimer Murphy is a full-time romance author. A native of the old historic city of St. Joseph, Missouri, one time home to both Jesse James and the Pony Express, she now lives and writes in the beautiful Missouri Ozark region. Her romance novels include Love Never Fails, Witness Protection Program, Sing We Now of Christmas, A Patient Heart, In Love's Own Time, Miss Good Samaritan, In The Shadow of War, Guy's Angel, and Heart of the Ozarks, all from Rebel Ink Press. She also has six other novels and several novellas available. Her work also appears in more than twenty anthologies and she has multiple short story/non-fiction credits.
She is a member of RWA, Missouri Writers Guild, EPIC, and the Ozarks Writers League. Her work also appears in multiple anthologies. She earned a BA degree in both English and History from Missouri Southern State University as well as an AA Degree in Journalism from Crowder College. She worked in broadcast media for a decade and also has a background in education. Her weekly column "Hindsight" appears each week in the Neosho Daily News.
She is married to Roy W. Murphy and the couple has three children, Emily, Megan, and Patrick Murphy.
If Lee Ann – or Lee as many of her writing friends know her – isn't writing, she's reading or spending time outdoors.
In Neosho, Missouri, the small town she now calls home, she serves on the local library board, is active in the annual Relay For Life fight against cancer, has worked with the local Arts Council, and is active in her parish.
A Page in the Life:
http://leeannsontheimermurphywriterauthor.blogspot.com
Rebel Writer-Lee Ann Sontheimer Murphy:
http://leeannsontheimermurphy.blogspot.com
Facebook:
http://www.facebook.com/leeann.sontheimermurphy
Twitter:
https://twitter.com/#!/leeannwriter
One international reader will win a PDF e-book of
In the Shadow of War.
(I'm jealous! You will get to read it before I do!) All you need to do is enter the rafflecopter form below by 9:00 P.M. Pacific time on June 16. And be sure to follow the entire
tour
for more promotions and giveaways!
a Rafflecopter giveaway