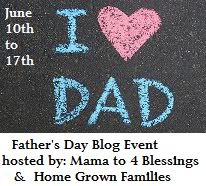 Thank you for stopping by The I Love Dad - Father's Day Giveaway Hop Event, hosted by Mama to 4 Blessings and Home Grown Families! This event will take place from June 10th at 12:01am EST to June 17th at 11:59pm EST. For this event we will be celebrating Dads! Which means we will be offering things Dads love for giveaways! After entering my fantstic giveaway be sure to visit each blog from the linky below the Rafflecopter and enter for your chance to win
some really amazing prizes valued at 20+!
I will be offering three prizes that will appeal to dad, but they just might appeal to you, too. I believe strongly that dads love pictures, pain relief, and tea. I have already reviewed one of the items, but i will review the other two below.
Noxicare™ Natural Pain Relief is a breakthrough natural, patented pain relief formula that is a proprietary combination of 7 of the world's most potent natural pain relievers that quickly and effectively alleviate inflammation, muscle aches and nerve pain—with NO known side effects and without a prescription.
Natural pain relief
is what this company does, and they do it well.
I tend to struggle with back pain, hip pain, and sciatica here and there. I am getting closer to 40, and although I am in pretty good health, I know that my body sometimes acts its age. I get tired of taking ibuprofen, and I don't like rubbing on all the smelly rubs. I am always looking for things to aid me in pain relief.
Noxicare is a
natural pain reliever
I was very willing to try, and the results were fantastic! I loved how easily it dissolved into my skin, and there was no odor. No staining either. I felt it working on my back muscles immediately, and it is something I will definitely use in the future. In fact, I was on my period at the time, and it even helped ease that pain. I hadn't planned on using it for that purpose, but it worked! I checked out the ingredients, and I noticed one of the top ingredients was turmeric. It was nice to look at the ingredients and actually recognize things that I have in my spice cabinet! The people at Noxicare also sent me a T-shirt with their logo as a special gift for me to enjoy, and I love my new workout shirt!
I received one or more of the products mentioned above for free using
Tomoson.com
. Regardless, I only recommend products or services I use personally and believe will be good for my readers.
Piczzle Picture Puzzle service is an Internet-based retailing and manufacturing service of Custom Jigsaw Photo Puzzles. Their goal is to provide the best custom jigsaw puzzle service, and it is a unique way to share precious moments with those you love
Piczzle's Cardboard Puzzles are made of outstanding materials, top craftsmanship and the highest print quality. They are constructed of a premium grade cardboard that has been
laminated with a glossy finish. Our cardboard puzzles are precision press cut so that all pieces will be perfectly match one another and they are printed using an advanced digital printing technique that results in sharp, multicolored prints.
I was quite happy to get a chance to review these wonderful customized jigsaw puzzle. Immediately, I knew that I wanted to make a puzzle to send to my friend in England. I used a picture of my daughter, and I used a heart cut-out for the design. When the item arrived, it came in a sturdy cardboard box, and the picture I had uploaded was on the outside with the greeting I had written. Inside the box were the puzzle pieces. I did not open the plastic bag because I plan to send it off to my friend. I want him to get the chance to put the puzzle together. I am certain that the puzzle pieces will fit--they looked like they were made of high quality cardboard.
I think these Piczzle Puzzles are a great idea. The ideas are endless. I have tried to make puzzles like these at home before, and having this company do it for me is so much better and easier! I would highly recommend this company to all of my fantastic blog readers.
Be sure to like them on facebook to keep up to date with this company.
I received one or more of the products mentioned above for free using Tomoson.com. Regardless, I only recommend products or services I use personally and believe will be good for my readers.
So you probably wonder now what exactly you will win. Read on for all the details!
One U.S. winner will receive:
Two bottles of Teas' Tea as described in my review here.
One tube of Noxicare Natural Pain Relief Cream as described in the review above.
And one of the Piczzle Photo Puzzle as described in the review above.
All you need to do is enter the rafflecopter form below by 9:00 P.M. Pacific time June 17. And don't forget to hop on to the other blogs for the chance to win other exciting Father's Day items!
Please note that USE YOUR BLOG NAME HERE, "I Love Dad - Father's Day Giveaway Hop Event"
bloggers
are not responsible for sponsors that do not fulfill their prizes. We have represented each sponsor with the expectation they will fulfill their prize and in a timely manner. We will contact the sponsor regarding your prize(s). The sponsors, in most cases, are shipping their items to you directly. We will make every effort to assist you obtaining your prize. If there is an issue with a sponsor, please notify the blog you won a prize from within 4-6 weeks for assistance, after that we may be unable to assist you.
a Rafflecopter giveaway