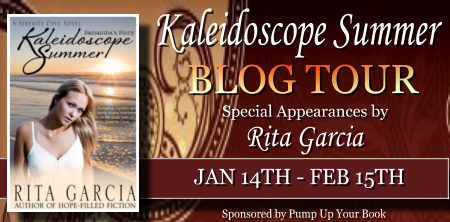 Kaleidoscope Summer
by
Rita Garcia
My rating:
5 of 5 stars
I have to say that I enjoyed this book more than I thought I would. I know that sounds bad, but let me elaborate. I began the book, and it was fine, but I felt no connection. That is until I had read about one third of the way into the book. I suddenly got hooked, and I honestly did not want to put the book down. This book has a little bit of everything--mystery, romance, and forgiveness. Forgiveness is one of the key elements in this book, and it truly made me stop and think about the consequences of unforgiveness. Although the book deals with these issues from a Christian perspective, it is never preachy. In fact, even the counselor in the book talks about other issues besides spiritual issues, and I was quite pleased to read about that. I honestly don't think this book would offend anyone--even those who do not subscribe to the Christian belief system.
I am grateful to tell you that there are no sex scenes and no profanity. The romance never comes across as being sappy nor cheesy. This book even deals with the issues of mental illness and disability. These are issues that many inspirational books don't tackle--at least, not in the fiction arena. Though a small issue, I appreciate her short, manageable chapters. As far as I'm concerned, books that have manageable chapter lengths are much easier to read.
There is only one thing I would change about the book. The book is told form two different perspectives--Samantha and Logan. It took me a good fifty pages into the book to figure out that the perspective changed each time a new chapter began. That was somewhat unclear, and I think it would have been good for the author to point that out from the beginning. But this was just a minor detail. Overall, this book was amazing!
I was sent a copy of this book in exchange for my honest review. I was not financially compensated, and all opinions are 100 percent mine.
View all my reviews