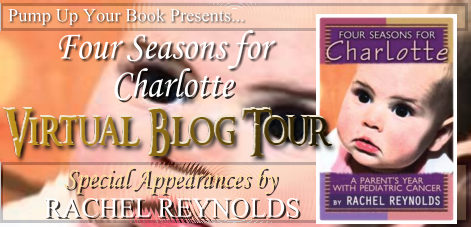 Join Rachel Reynolds, author of the pediatric illness/self-help book, Four Seasons for Charlotte, as she tours the blogosphere December 3 through February 15, 2013 on her first
virtual book tour
with Pump Up Your Book!
Rachel Reynolds shares a powerful journey in her memoir, Four Seasons for Charlotte. It is the story of an ordinary family bearing an extraordinary burden.
When Rachel's three year old daughter Charlotte was diagnosed with a brain tumor, the world of the Reynolds family was changed forever. In Four Seasons for Charlotte, she recounts the events of the year of Charlotte's diagnosis, treatment, and eventual death. Her chronicle of the family's story is about more than the untimely death of a child. It is about harnessing the strength of a community, gaining perspective through tragedy, and finding light in a time of darkness.
This had to be one of the hardest books I have ever had to read. Reading about cancer is hard enough, but when you combine cancer and a cute, little girl, it is time for some serious water works. And it certainly was. The book reads very easily, but it is extremely emotional. The author shares her story with honesty and clarity. She celebrates the story of her daughter's life, and in so doing, she shares tips with others to help during a time like this no matter what side you are on.

I was constantly moved as she shared about her sweet Charlotte, and the story tugged at my heartstrings. I really began to lose it when I saw the pictures in the middle of the book. Rachel Reynolds told how she did it, and she was careful to point out what you did not want to say or do. Silence is best most of the time. And she emphasized the place of faith, family, and friends.

I think this should be required reading for everyone. No doubt all of us have been touched my cancer in some way. It's hard enough when it attacks adults, but how do you comfort the parents going through this? You will find her incredibly sound advice, and you can rest in the fact that she has come out the other side. No, she is not "over" it by any means, and I appreciate the fact that she did not hold anything back. What a fantastic tribute to her daughter's legacy! Just know that reading this will probably bring more than one tear to your eye!

I was sent a copy of this book in exchange for my honest review. I was not financially compensated, and all opinions are 100 percent mine.
ABOUT RACHEL REYNOLDS
Rachel Reynolds is a special educator and freelance writer. She currently serves as the principal of the Dominion School, operated by Commonwealth Autism Service. You can find her writing at Richmond Mom,Hello Grief, Richmond Magazine, the webzine Insert Eyeroll, and her personal blog, See What You Meme. She is also the co-founder and executive director of CJ's Thumbs Up Foundation (CJSTUF). In 2012, Rachel was awarded the Eagle Rare Life Award for Courage.
Rachel lives in Ashland, Virginia with her husband and two incredibly annoying (but completely adorable) cats. In her spare time, she obsesses over Don Draper, dark chocolate, and public radio personalities (not necessarily in that order). You can follow Rachel on Twitter, Facebook, or Goodreads.