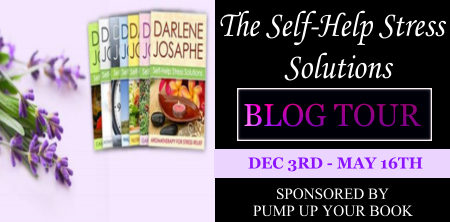 Now there's a way to get rid of the harmful effects of stress on your body and spirit. Our Self-Help Stress Solution Series tells you how aromatherapy, walking, nutrition, time management, money management, gardening, camping, and many other natural self-help methods, can be the cure you're looking for.
Imagine! No more anti-depressant pills that trigger weight gains and have you walking around like a zombie.
No more lying awake at night while stressful issues with family, job or relationships roll around in your head.
No more neck and body aches when you wake up in the morning from the stressful state you were in when you went to bed.
No more coping with the side-effects of depression that stress can cause.
How Can Our Self-Help Stress Relief Series Help Get Rid of Stress?
It's not magic – nor is it a big secret! The calming effects of aromatherapy, when combined with other stress-relief techniques, can rejuvenate your mind, body and soul and literally lift away the stresses of the day. Eating healthy foods and engaging in a healthy lifestyle can fortify your body to fight off stress successfully. Developing the happy of taking a brisk walk a few times each week, strengthens your body as well as helps you sleep better at night, which are all essential factors in overcoming stress. Spending time outdoors gardening or camping works wonders for body, mind and spirit.
This Self-Help Stress Solutions Series will blow you away with information that you might not have known about relieving stress in your life.
Learn how to develop a life plan for stress relief.
The "Self Help Stress Solutions" Book Series will teach you how to systematically reduce or rid yourself of stress symptoms that permeate your life. This is imperative for your well-being. Health concerns are nothing new, and many develop a diet and exercise plan to deal with them.
Many don't realize that developing a life plan for stress relief can also make your mind and body healthy. You may even lose weight when you learn how to manage stress because you're not eating mindlessly or comforting yourself with food.
One Thing I Know For Sure…
…is that every woman wants to reduce stress in her life, but isn't sure how.
Most are definitely not aware that there are techniques, including aromatherapy, proper nutrition, walking, gardening,, camping, time and money management, that can help in a purely delightful way.
A very simple book with practical ideas to make the holidays less stressful. This is not just about Christmas. It means all holidays. You can sit down and leaf through this, and you will quickly discover that some of the things you think you MUST do during the holidays are not necessarily so. Reevaluate what is important about the holidays, and be sure to reduce your stressors. I plan to keep this book to give me some ideas about how to reduce my stress throughout the year because I am busier than I have ever been this holiday season! And I doubt it will slow down with the New Year upon me.
I was sent a copy of this book in exchange for my honest review. I was not financially compensated, and all opinions are 100 percent mine.
Darlene Josaphe helps women manage stress successfully with resources that educate, combined with personal support. Her website, Natural Stress Relief Tips For Women, is an exclusive website for women that provides self-improvement articles, stress reduction resources, and transformational tools to women who want to improve their lives and achieve their life goals.
Natural stress relief tips for women is a site about turning your life from OK to extraordinary by reducing the stress, anxieties, and tensions that rob you of the peace of mind and happiness you deserve. If your life feels like a constant pressure cooker, you're not alone. Women today are under a lot of pressure.
Knowledge is power, and our self-help ebooks for women will empower you to cope with the stresses in your life and achieve your life goals, whether it is happiness, good health, loving relationships, financial freedom, fulfillment … or all of the above.
To see all that Darlene offers, including a chance to learn more about natural stress relief techniques and tips you can use right now and high-performance strategies that you can use immediately to improve your life, simply take our FREE Stress-busting eCourse and learn how to turn your stress into success!
There is a giveaway associated with this tour. You can check the left sidebar or enter below:
a Rafflecopter giveaway
Giveaway is open worldwide and will end May 17.