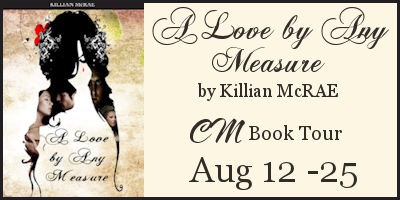 TITLE: A Love By Any Other Measure
Book description (goodreads):
"An Irish lass. An English lord. A love that overcomes all boundaries, but at what cost?
Lord August Grayson, English landlord, has secretly, and much to the dismay of his father, held in reverence the object of his first fancy: poor Irish tenant Maeve O'Connor. Returning to Ireland for the first time since his youth, August discovers that Maeve has grown into a woman of beauty and tenacity. He understands, however, that he could offer Maeve nothing but shame if her pursued her. But when circumstances allow him an opportunity to indulge his fancy, even if only in a limited scope, August finds himself unable to resist the temptation.
Maeve,for her part, knows the danger falling for August holds, but finds her heart and her good senses becoming confused the longer she spends in his company. As two hearts become hopelessly entangled, both Maeve and August are forced to question the costs of their love. As consequences of their romance manifest, both struggle with the pain and difficulties their love causes, both for themselves and those who care for them.
Killian McRae's delve into historical romance will challenge reader's presumptions of the genre. A title garnering controversy due to McRae's preference towards historical truth versus genre-standard "love despite the realities of the day" perspectives, it asks at what cost winning love is justified. "A Love by Any Measure" is an exploration of a romance that strives to overcome divisions of cultural, socio-economic, and religious differences in an era where options for lovers in such situations were limited."
A Love by Any Measure by Killian McRae
My rating: 3 of 5 stars

I truly have mixed feelings about this historical romance. There are parts about the story that absolutely drew me in, and of course, who could not love August and Maeve?. I think that love stories between the titled and commoners are pretty common and always popular. Everyone wants to see people marry for love, so there was a charm about this story in that respect.

I am pleased to report there was no profanity. There are pretty intense bedroom scenes, but the author has the sense to know when to stop--she doesn't go on for pages and pages! The morals of the characters are certainly called into question, but I am sure that historically speaking, there were many arrangements like this. I spent much time considering this possibility. I had never thought of a peasant being forced to "pay" rent in this way. But enough said about that--no spoilers!

In the middle of the book, I began to truly get confused. I understood the author's purpose pretty clearly. She was jumping back and forth in time, but I felt quite perplexed at times to understand exactly what was happening. I would have preferred the story being told in a more straightforward style, but in the end, it finally made sense. I did find the ending a bit far-fetched, but that is just my opinion. And I would have preferred a less predictable ending, but this was a fairly decent rendering of a historical fiction tale. I cannot say I ever found the book boring or tiresome, so I would definitely recommend this to historical romance enthusiasts.

I was sent a copy of this book in exchange for my honest opinion. I was not financially compensated in any way, and all opinions are 100 percent mine.

View all my reviews
To find out more about the author, please check out her website.
One international reader will win an e-book of this book. All you need to do is enter the rafflecopter below by September 5.
a Rafflecopter giveaway