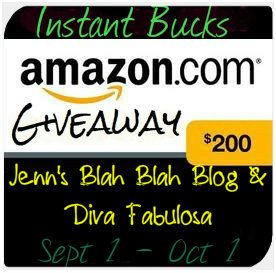 Instant Bucks $200 Amazon Blast

Are you ready for another fabulous giveaway! This time Instant Bucks will be sponsoring this fabulous event, offering our readers a $200 Amazon Gift Card!
Event is sponsored by
Jenn's Blah Blah Blog
and
Diva Fabulosa
!
If you have not signed up with Instant Bucks, do it now! They are new, and you will love them, similar to Superpoints,
CLICK HERE TO SIGN UP!
Join us and offer your readers this fabulous prize! What do you get for helping us promote?
Event will run from Sept. 1, 2012 until Oct 1, 2012! Plenty of time for all of your readers to enter this fabulous event!
FREE Facebook Link
Additional Links $2
Daily Votes $3
Learn more about this wonderful Amazon Giveaway.
Glass Handbag Giveaway Sign Up's Are Open!
There will be a Glass Handbag Giveaway every single month until further notice.
This prize is valued up to $1000, Winner Chooses Prize, Giveaway runs from 9/15 - 10/15!
Get a FREE Facebook link in event and is open worldwide
Additional links are $2
Daily votes $3
Co-host spots available.
Jenn's Blah Blah Blog
,
Diva Fabulosa
and
Simply Shawn & Jenn
are bringing you an awesome
FREE Blogger Opportunity!
They will be giving away $200, in their Have it your way event! How will this work? Whatever the winner wants, the winner will get! Kindle Fire, PayPal Cash, Amazing, Wal-Mart, Target! Who cares, they get just what they want!
Blogger get
FREE Facebook l
ink with the option to purchase additional links!
Jenn's Blah Blah Blog
had a giveaway just like this called the
Sizzling Summer Giveaway
that was fabulous, so were going to bring it back over and over and over again! This time Simply Shawn & Jenn has decided to join in the fun to celebrate reaching over 10K fans!
About the event
Prize: Whatever you want up to $200 (shipping included) Do you want a Kindle Fire? Maybe an iPod, hummm maybe gift card to Target, oh wait Paypal cash? We don't care we want you to have it your way! So let the games begin, and let's have some fun with this one!
Event will run from Sept 20th until Oct 20th.
Free Facebook
Additional likes $2
Daily Votes $3
Co-host spots $10. (with this you will receive your blog mentioned all blogs posts, FREE Facebook, and FREE Twitter! If you choose this please be sure to add your links in the assigned spots on the form below)
You can sign up for this event HERE