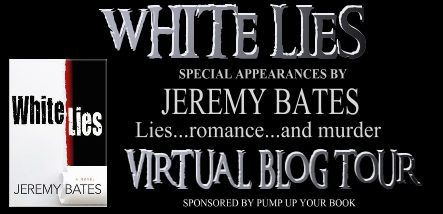 About White Lies
While driving to a charming village tucked away deep in the Cascade Mountains of eastern Washington, where she is to begin a new job teaching high school English, Katrina Burton picks up a young hitchhiker who turns out to be drunk and predatory. Fearful for her safety, she lies about her destination in order to get him out of the car. But when she later discovers that he is a teacher at the same school, she finds herself feeding that initial lie with more lies.
Then Katrina meets a mysterious man. Handsome, charismatic and strong, he is exactly what she needs to extricate her from the expanding network of lies, now spinning out of control. She falls fast and hard for him.
Her perfect solution, however, soon becomes a nightmare that lands her in the middle of a grisly murder. And Katrina's problems don't stop there. She must decide whether to betray her new love or to cover up the murder and hope for the best…until she discovers that the choice may not be hers to make.
White Lies
by
Jeremy Bates
My rating:
4 of 5 stars
What began as a light-hearted book quickly turned into an action-packed story of murder and deception. And I am still recovering from the ride! This is a book that took so many twists and turns, and it was crafted extremely well.
I was instantly drawn in since Katrina is a schoolteacher, and the story takes place in Leavenworth, Washington. It was nice to read about familiar environment and workplace. I actually got a good chuckle as Katrina's expense as her web of lies began to entrap her. In my mind, she got what she deserved.
When Jack entered the picture, I was instantly suspicious, but the outcome absolutely shocked me. I will not leave any spoilers--read the book, if you want. But the action is nonstop. And even Zach surprised me quite a bit. One never knows where the web of deception will lead.
I could have done without the profanity. There was too much for my taste, but that is just my opinion. I wished the character wouldn't jump into bed so quickly with each other, but thankfully I did not have to read any bedroom scenes. The violence was quite descriptive--sometimes a little much for me--but not as graphic as some could be.
The morals of the book as far as deception goes are phenomenal. The Catholic church and God even make an appearance. I was glad to see a real resolution to the book. That is one of the main reasons that I gave the book the rating it did. At least the author has a moral background. And that definitely makes the book a good read.
I was sent a copy of this book in exchange for my honest opinion. I was not financially compensated, and all opinions are 100 percent mine.
View all my reviews
ABOUT JEREMY BATES
Jeremy Bates has spent the last ten years traveling the world, visiting more than thirty countries. He has lived in Canada, the United States, Australia, Japan, South Korea, and the Philippines.
Bates is a graduate of the University of Western Ontario with a degree in English literature and philosophy. He is a member of Mystery Writers of America, International Thriller Writers, Inc, and Crime Writers of Canada.
His frightening debut novel, White Lies, is set in a small village in the Cascade Mountain range of eastern Washington. In the book, he succeeds in bringing world-class terror to this tranquil community.
To find out more please visit
http://jeremybatesbooks.com
.
To follow the entire review, please click
here
.