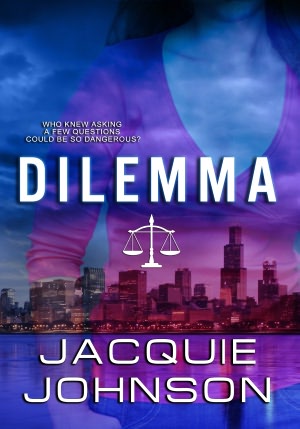 Author - Jacquie Johnson
Date Published: 7/22/12
Synopsis:
In Chicago, the name Jon Elliott garners attention. When the legal mastermind offers to mentor Alexis Winters, Bingham, Elliott and Bright's newest associate, she jumps at the opportunity sure this will launch her career. But Jon has a dark side, one that demands unquestioning loyalty and a willingness to defy the spirit of the law, if not the letter.
Thrust into Jon's world and expected to play by his rulebook, Alexis grapples with her conscience. On several occasions, Jon's orders are at odds with what she learned in law school, and she finds herself trapped between her profession's ethical rules and her own values. When Jon's biggest client appears to be engaging in questionable activities and he orders her to ignore the behavior, Alexis investigates on her own. Suddenly, she is not only a witness to a horrible crime but a victim in her own right. Going underground, she turns to the one person she can trust, investigative journalist Ryder Prescott, a childhood friend. Together, Ryder and Alexis work to solve a puzzle that crosses socioeconomic classes, political parties, and international borders.
Embroiled in a global conspiracy that costs her the only family she has left, Alexis must decide how far she will go to defend truth and justice. Is she willing to sacrifice life, liberty and the possibility of love?
This is now the third book I have read within a couple months that deals with the topic of human sex trafficking. I have discovered that this is a real problem in our world, and it is thanks to books like this one. I can only hope that with books like this being written that organizations who practice this horrible crime will be stopped.

This book was engaging from the beginning. In fact, I honestly didn't think it could be about sex trafficking because these was nothing about that. I thought I had possibly read the wrong synopsis. I figured it would be a typical lawyer book. And maybe have a little romance thrown in.

I will not give out spoilers, but this was a book that ends up being completely different than I expected it to be. Yes, there was some profanity and some limited sex scenes, but the book was quite enthralling. It was an easy read with a powerful message.

If you are a lover of romance, you will probably like this book because the romance is hot, heavy, and real! Alexis and Ryder and hot in the bedroom (I almost didn't mind reading these scenes in spite of the moralistic implications).

Looking for mystery? This book has that, too. In fact, I think this book may just satisfy everyone's interest! And most importantly, the book reminds us that we need to do what is right and remain true to who we are even when the circumstances are against us.

I was sent a copy of this book in exchange for my honest review. I was not financially compesnated, and all opinions are 100 percent mine.
Jacquie Johnson fell in love with books on her mother's knee. From Dr. Seuss to Carolyn Keene to L.M. Montgomery, she continued her affair until her teenage years when she began reading authors ranging from Tom Clancy to Nora Roberts to Johanna Lindsey. She's still an avid reader but now carries an e-reader instead of a paperback in her purse. Mysteries and suspense are her favorite genres, but she enjoys romance, historical fiction, and non-fiction as well.
She graduated from Harvard and Indiana University School of Law. After ten years practicing labor and employment law, she retired to homeschool her daughters. She lives in Northwest Indiana with her husband, three daughters, and a spoiled cocker spaniel named Princess.