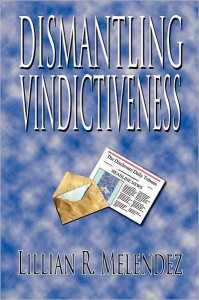 Due to technical issues, this is being published post-blog tour, but I still wanted to feature this book and author.
ABOUT LILLIAN MELENDEZ
Lillian R. Melendez received a B.A. degree in English with a minor in Psychology from Trinity University in Washington, D.C. She is a member of Mystery Writers of America. She lives in South Orange, NJ.
Purchase this book through:
Amazon
ABOUT DISMANTLING VINDICTIVENESS
Christopher Parker is finding it hard to believe that his architect firm is being affected by the recession. His firm's overall budget is decreasing in a rapid pace, employees are complaining that their funds are being tampered with, and the unforeseen attacks on top employees outside of his firm and murder, has Christopher's heart racing.
Witnessing his own company's downward spiral, Christopher holds suspicions, but does not accurately know who is responsible for the sabotage. Through newspaper articles published by the Disclosure Daily Tribune, he is getting closer and closer to the suspect. At the same time, Christopher's health is declining and he is trying to make peace with those he hurt in the past before it's too late. To his surprise, help comes from the unlikeliest of sources.
My interview with Lillian Melendez
Here are my interview questions:
1. What inspired you to become a writer?
What inspires me to write is understanding why some individuals have evil tendencies that hurt others. There are hidden reasons for their behavior. It may be emotional, psychological, or learned behavior.
2. What is your favorite movie?
My favorite movie is Inception. The movie has a psychological aspect to it. I tend to write books that contain a psychological theme.
3. What is your "writing process"?
I carry a pen and a small notepad with me everywhere I go for when inspiration strikes. My electronic notepad on my iPhone is beneficial for me when I forget my notepad. A tip I want to share is for writers to outline. Of course, not every writer should if they are not comfortable with it, but I was taught to outline. After outlining, I then begin to write. As new ideas come to my mind, I then include it within the outline. Sometimes the title of the story changes after the last chapter of my manuscript.
4. What do you like to do in your spare time?
I read general fiction and detective novels. Yet, I mostly read news articles, and online and print magazines. I am intrigued by some of the things I read in the paper. It gives me inspiration for my stories. I also am good at balancing my writing time between my day job and spending time with family. I organize my time by setting a schedule. I cannot become an effective writer if I don't have balance in my life. Life is not all about writing.
5. Ten years from now, what do you hope to be doing?
I hope to continue writing and creating new and interesting stories with a moral purpose in mind for readers.
If you would like to take a look at the tour, click
here
.