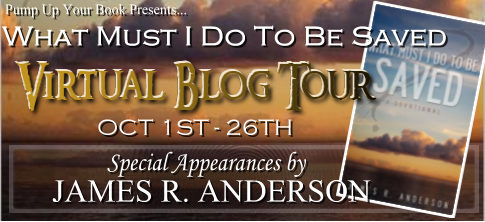 Join
James R. Anderson
, author of the Christian Life/devotional book,
What Must I Do to Be Saved?
, as he tours the blogosphere from October 1 – 26, 2012, on his first virtual book tour with
Pump Up Your Book
!
James R. Anderson earned a law degree from the University of Minnesota in 1974 and practiced law in Minnesota for 30 years before retiring. During that time, Mr. Anderson argued several cases defending Christian liberties against state intrusion.
ABOUT WHAT MUST I DO TO BE SAVED?
But as many as received him, to them gave he power to become the sons of God, even to them that believe on his name. John 1:12
Our search for the pathway to eternal life has taken us now to the Gospel of John. If a person has limited time in which to search the Bible for verses which tell us how we might gain eternal life, there are probably no better books to search than John and Romans.
We receive Jesus when we "believe", as this verse tells us. What we "believe" is what Jesus, as recorded in the Bible, tells us about Himself and what He did for us. Jesus came to earth from heaven, where He had lived and will live for eternity, to suffer and die on the cross, to pay the penalty for our sins. Revelation 1:5,8,18.
This devotional is an amazing book that will definitely inspire and encourage you in your Christian walk. It was definitely a breath of fresh air, and I was quite pleased to read something based on the Bible for a change. So many Christian books don't even cite the Bible, but this book walks you through the New Testament, pointing out how to be saved in every single chapter! And the theme continues--faith is the key.

This book is the ideal book for any Christian at any point in their Christian walk. Everyone from babies to the mature in the faith will benefit from this study. I doubt that a non-Christian would benefit from the book unless he/she is open to the Word. If you know a seeker, this would be the ideal book to show them the truth.

One word of caution--read it as a devotional. If you try to read it straight through, you will be overwhelmed. Although this book is not preachy nor theological in nature, the book is deep. Real life examples are used, and it is written in a very conversational style. But it is meant to be read one portion at a time. Give yourself time to ruminate on what the author has written for that chapter. I intend to use this as a devotional and reread the sections I read too quickly.

I was sent a copy of this book in exchange for my honest review. I was not financially compensated, and all opinions are 100 percent mine.
To follow the entire tour, please click
here
.