Welcome! I was excited to receive a copy ofMomnesia in exchange for a fair and honest review. Not only that, but it's all part of a fun giveaway event called the Sizzling Winter Blog Hop & Treasure Hunt!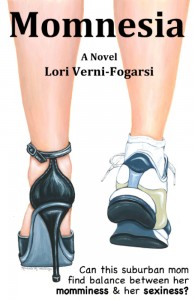 She's smart, pretty, and runs her own business. So then why does she feel so dead inside? Between work, two kids, and a husband who finds her about as exciting as furniture shopping, this is the story of a (formerly-exciting but now way-too-typical) suburban mom who diagnoses herself with "Momnesia" and sets about finessing a new version of her old vivaciousness:
MOMNESIA (mahm-nee-zhuh) -noun-
Loss of the memory of who you used to be. Caused by pregnancy, play dates, and trying to keep the house cleaner than the Joneses.
She finds some adventure pursuing her own interests, and does make some new friends (including the battery operated variety), but still feels like nothing more than a caretaker.
In between dealing with her husband's manic-depressive behavior, drama with her friends, and some naughty Internet escapades, she keeps facing the question, "Is it that I haven't been myself? Or is it that I am being myself but just different than I used to be?" It isn't until she tosses the Invisible Rule Book altogether that she discovers life--and love--have more to offer than she ever imagined!
I have to admit that I struggled with my rating of this book for some time. There are some obvious reasons why I should mark it down. There is a lot of profanity (some of it rather hard core). I have to admit that I could have done without a lot of that, but this is just my opinion. I also could have done without the sex scenes but they were thankfully none of them were detailed. I also didn't like the homosexual situation in the book, but again, there was no detail. I didn't like the morality in the book, but then again, I'm old-fashioned, so I will always say that.

Thankfully, the positives do outweigh the negatives. When I read about Paul, I instantly connected. My ex-husband's name is Paul, and there were definite similarities. But Paul actually reminded me more of my dad--that's a long story there. I also connected with the online dating hunt(been there, done that), and I also understand losing myself in my role of mom (amongst other things). And I also can relate to the "temptations" of a single mom. Just because I don't want to read about sex scenes doesn't mean that I don't ever think about it. How the woman stayed in the kind of marriage she did for so long without cheating is beyond me, but I relate again. And let's talk about loss of self worth--I totally agree. In so many ways, this book has something for married moms, single moms, and those women who are somewhere in the middle. As long as you are aware of the precautions above, I can recommend this books to moms everywhere.

I was sent a copy of this book in exchange for my honest review. I was not financially compensated, and all opinions are 100 percent mine.
Lori Verni-Fogarsi has been a freelance writer, journalist, columnist, business consultant, speaker, and author for 15+ years. She is a happily married mom of two, step mom of two more, and has two cats, both rotten. You can learn more about her at
www.LoriTheAuthor.com
.
And now on to other fun! There are tons of prizes you can win! First, enter my giveaway TO WIN A ??? WHATEVER YOUR ITEM IS just below. Then, go to the main treasure hunt–the grand prize is a $100 Amazon Gift Card! Yes, seriously!
Click here to go to the main treasure hunt
. MAKE SURE THIS IS A LIVE LINK TO THIS ADDRESS: http://www.loritheauthor.com/sizzling-winter/ THANKS. Just find YOUR BLOG'S NAME on the treasure hunt list and enter my treasure hunt clue:
DEVOTION
You'll be entered to win a $100 Amazon Gift Card! You'll also find links to the many other sites so you can find their clues too, and receive extra entries! Plus, every site is having their own additional giveaway!
First, enter my giveaway. Please give it a moment for the entry form to load. Good luck!
a Rafflecopter giveaway
Thanks for playing! I hope you enjoyed the book review and wish you luck in the giveaways. Have fun with the treasure hunt!
If you enjoyed this, please share with your friends. Thanks!