I absolutely love
Rock 'N Learn
, and whenever I have a chance to work with them, I always do. Why? Well, I am a music teacher, and I think that any time you use music to teach concepts, you score points with me. The two founders (Richard and Brad Coudle) saw firsthand how kids responded to music and multi-sensory learning. Richard was a school psychologist, and Brad was an musician. Therefore, when the two of them combined their talents to create this line of DVD's, it was absolute genius! And the awards keep from coming from all over--Parent's Choice, Teacher's Choice, and the list goes on. This is a company that has been able to capture the imagination and interest of children and still teach them something!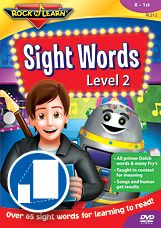 My daughter and I had the opportunity to review their new Sight Words Level 2 DVD. Take into account that my daughter is nine and going into fourth grade, but she is always gracious enough to agree to review products and books for younger kids. So she did.
She found this DVD thoroughly entertaining. I had to remind her a couple of times that this was for younger kids. She enjoyed and connected with the characters. She had a few criticisms here and there about the graphics and the pace, but again, it is for younger kids. And she agreed that had she been in kindergarten, she would have loved this! I found it entertaining and funny at times. The characters are engaging, and I only wish that I would have had access to this DVD when my daughter was a toddler--she would have truly connected with it then.
This is a DVD that will appeal to young children, and they will barely realize that they are learning valuable sight words. I plan to pass my DVD on to my daughter's school since I know that the teachers are always looking for fun, educational DVD's.
In addition to checking out their website, you will definitely want to follow Rock 'N Learn on
facebook
and
twitter
.
As a member of
Karma Media
I received this product from (insert company name) in hopes of obtaining a review. All opinions are my own.