~FREE Blogger Opportunity~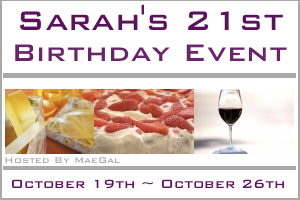 Sarah's 21st Birthday Event
#Sarahs21st
October 19th - October 26th


One FREE link, with announcement post.
Additional paid link options available.
Co-Host options available.

Current Giveaway Prize Package Valued At: $318
Visit the link below to see what companies are sponsoring!



Click Here to Sign Up or Learn More.




This is a massive giveaway that you do not want to miss, so either sign up if you are a blogger or don't forget to come back if you are a reader!