Summary from goodreads

: When a devastating flood wipes out homes in a small town, residents are shocked by the news of a possible poison spill that also kills many of the fish and neighbors' pets. The people don't know what to think or do, until Julia, the town's newest reporter, jumps into action and begins her investigation. Quickly Julia realizes the story is much bigger and more dangerous than she thought. As information unfolds, Julia and her husband find themselves on the run, trying to save their lives while finishing the story of a lifetime. Will Julia and John be able to get the scoop and save their lives?
Anasazi Intrigue by Linda Weaver Clarke

My rating: 4 of 5 stars


I am so pleased to find yet another clean romance, and this book adds history and mystery to this genre. It is a well-written story with lots of heart. The characters are believable, and the story will keep you one's attention.


I love the fact that there is no foul language, sex, and any graphic violence. I get so tired of reading books are spoiled with these elements. This book is still engaging without being offensive.


I loved the chemistry between Julia and John. So often romances are limited to the 20-something crowd, and it was neat to see a romance between 30-something characters that were married. The love was not overdone, and I found their interactions quite entertaining. Both characters were flawed, and they willingly admitted their mistakes when necessary. It is clear that they were committed to their marriage and making it work.


There is still a young romance in this book, and since this book is the first in the series, I look forward to seeing more from this "romance" in the other books. (I won't say any more on that so I don't ruin it for you.)

While the mystery and history may not appeal to everyone, I found that it was just perfect, and I certainly look forward to reading more books by this author in the future.

The author sent me a copy of this book in exchange for my honest review. I was not financially compensated in any way, and all opinions are 100 percent mine.


View all my reviews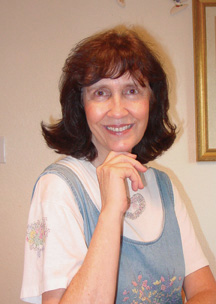 I was raised on a farm surrounded by the rolling hills of southern Idaho and have made my home in southern Utah among the beautiful red mountains and desert heat. I have been happily married for 36 years and am the mother of six daughters and have four wonderful grandchildren .
After my family began to leave the nest, I decided it was time to finish what I had started long ago. I decided to go back to college and get a degree. It had been 30 years since I had been to college and it was one of the most frightening things I had ever done. I had to learn how to study and take tests all over again. The first day of college, I was a nervous wreck and wondered if I could do this, but with the support of my husband and children I was able to graduate. I received my Bachelor of Arts Degree in Theatre and Music at Southern Utah University and received the Outstanding Non-Traditional Student Award for the College of Performing Arts in 2002. During the meantime, I cut a CD named "Romantic Love Songs of Sigmund Romberg and Victor Herbert."
I have enjoyed writing short stories and novels for several years but it took a lot of courage to begin submitting them. After "Melinda and the Wild West" was published, I entered it in the Reader Views Literary Contest and my book was chosen as a Semi-Finalist in the "Reviewers Choice Awards 2007." It was one of the top ten out of hundreds of other entries.
I also tour all over the United States, teaching people the importance of Family Legacy, encouraging others to turn their family history and autobiography into a variety of interesting stories. I have received several e-mails from those who have attended. Below is one that I received.
"I went to a 2-hr-seminar put on by Broadmoor Library. It was so interesting and I wish I had a video of the lady speaking; telling stories of her parents, grandparents, family, etc. What a great writer of fiction, which has family incorporated in her books. She will continue to write as the Lord gives her wisdom and knowledge on how to captivate the interest of the reader. . . I read long ago that you should write for the reader and she has done just that, as she knows how to capture the attention of the reader. What a brilliant lady who knows how to speak, write, motivate and bless people in all walks of life. I could listen to her all day. It is just so uplifting." -- Shirley from Shreveport, Louisiana
Buy
her books.
Connect
with her.