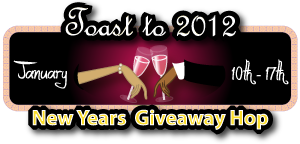 Welcome to a fantastic giveaway hop to welcome 2012! It is the Toast to 2012! A whole host of bloggers have teamed up to give away some fantastic prizes, so be sure to enter to win on the various blogs and the grand prize!
Toast to 2012 GRAND PRIZE
! Make sure to
ENTER TO WIN
1 of 5 $100 Paypal or Visa Gift Cards!!!
Likeographers.com
is a website where users from all over the world can enter awesome giveaways where they can win items such as gift cards and makeup by simply signing up and uploading a candid photo.
Likeographers.com
is dedicated to providing a place where users can upload a picture of their likes, share them with the world and win awesome prizes.
Now on to my giveaway. I will be offering two prize packs--one is open to U.S. and Canada, and the other is open to the U.S. only.
Prize Package #1:
First up is the
Lovable Labels Friendship Pack.
I must admit I don't get tired of reviewing and promoting Lovable Labels products. This is the third time I have had this opportunity, and they are absolutely fantastic! For those of you who may not know, Lovable Labels are products that just make parents' lives easier. They are completely customizable, and they can withstand almost anything, including the dishwasher. Place them on the items that your children own, and they will be easy to identify.
These specific friendship packs are really neat. Included in you personalized pack is 30 sticker labels, 80 slimline labels, and 10 fun stickies. And now if you order one friendship pack, you can get a friendship sampler (40 slimline labels) free (if you order before February 28). My daughter and I took full advantage of this. She got the friendship pack. She then got to pick out one for a friend, and I when I gave those to this little boy's mom for a late Christmas present, she was ecstatic! Lovable Labels always seem to get that response. They make wonderful gifts. For the packs, you get to choose between the girl or boy packed (pictured above), and there a lot of amazing icons to choose from! You just cannot go wrong with Lovable Labels. I have ones that I put on early this year, and they are still holding strong in spite of all the abuse they have received!
Secondly, I got to try
Tropical Traditions Organic Hair Oil
. I tried the lavender scent, and I was quite impressed. I have tried a number of things from Tropical Traditions, and I never tire of reviewing and promoting their products. But this was something a little different. I had never used coconut oil on my hair--until I tried this product.
I read the instructions on the back very carefully, and I tried two out of the three ways that it recommended using it. I don't have dry scalp, so I skipped that one. I immediately began using this on my hair to style and make it shine. I was impressed with the results. It was much better than putting mousse or other styling products on it. The only thing I did not like is that after a couple days of using it, I have to use powder on my hair to counteract the effects of the oil. But that is a minor issue.
The second way I used this was as a conditioner. It had a couple different ways to use it. I put it on my hair after I washed it, and indeed, it made my hair soft, silky, and nicely scented. I also put it on my hair before washing it. You can put it on and leave it on from 15 minutes up to overnight. I left it on for 15 minutes, and I certainly liked the way it conditioned my hair--both times. And come to think of it, I have not had any itchy
scalp. While I do not suffer from dry scalp, I guess this also kept my scalp from having any dryness issues.
Prize Package 2:
And finally, I received a bottle of Purex Crystals Tropical Splash and a Jocket Tech Terry sports bra to review. These products are absolutely awesome! I am always impressed with Purex products, and the
Purex Crystals
are no exception. The tropical splash has a fantastic scent that lasts, and its softening quality rivals that of any dryer sheet or fabric softener. And the best part is that you get to put the crystals in at the beginning of the wash cycle. I don't know about you, but I tend to forget to add fabric softener at the right time, so I don't usually use it. It is a pain. But not so with Purex Crystals!
And as for the Jockey Sports bra (mine was black instead of the white one pictured), I could not be happier! I was actually looking for a new sports bra, and this is the most comfortable sports bra I have ever worn, and it definitely provides the best amount of support of any sports bra I have worn. I just find that it is hard to get off after my workout when I am sweaty. But that is a minor issue compared with what you get!
Right now, Purex and Jockey are running a great promotion. Head over to this
page
, and you can easily sign up to receive a 20% coupon via e-mail. What a way to start off the new year and kick those healthy resolutions into high gear!
Now after all of that, we finally come to the giveaway. There will be two winners. Prize Package #1: Lovable Labels Friendship Pack (with Friendship Sample Pack), Tropical Traditions Organic Hair Oil--Lavender (U.S./Canada); Prize Package #2: Purex Crystals Tropical Splash, and Jockey sports bra ( the winner will be able to pick out their bra size) (U.S. Only) . All you need to do is fill out the rafflecopter form below. And then don't forget to hop on to the other blogs to enter more amazing giveaways!
a Rafflecopter giveaway