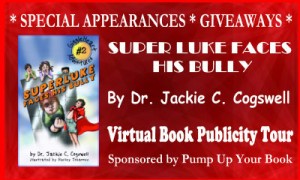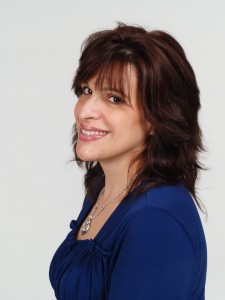 Join
Dr. Jackie C. Cogswell
, author of the Christian children's book,
Super Luke Faces His Bully
(Divine Inspiration Publishing) as she virtually tours the blogopshere from May 1 – 25, 2012 on her first virtual book tour with
Pump Up Your Book
!
ABOUT DR. JACKIE
Dr. Jackie Chirco Cogswell is a family physician, wife, mother, former school teacher, and now author of a series of Christian children's novels, the GIGGLEHEART ADVENTURE SERIES. Writing Christian books and reading the Bible has become her passion.
In recent years, Dr. Jackie has been led to teach children of all ages how to prevent and stop bullying. As a Christian mother, the issue of bullying became very personal to her when her child was bullied in elementary school. Through the many struggles her son had with bullies, Dr. Jackie learned from firsthand experience how to tackle bullying from a Christian perspective.
SUPER LUKE FACES HIS BULLY
was inspired by her son's personal struggle and the good Lord, "Who equips us for every battle andgives us strength."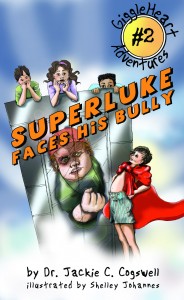 About Super Luke Faces His Bully
Super Luke Faces His Bully is a fun loving adventure spoken straight from the heart of a super-sweet eight-year-old bully victim, Luke Giggleheart. The Word of God is used as a lens to examine some of the issues that can make a person act like either a bully or a victim. During this adventure, Luke, our tender-hearted bully victim, learns about fear, being courageous and getting adults to help, while praying for his enemies.
Follow the entire tour
here
.
My review: Originally, I had planned on my daughter being the one to read and review the book, but she is swamped with school and tests. So dear old mom picked it up and loved it! I give it five stars with no hesitation whatsoever. This is my first time reading anything about the Gigglehearts, and I was quite pleased with the wonderful way that the Bible was woven into every part of the story. In fact, each chapter begins with at least one Scripture verse.
I am a teacher, and I have seen children bullied. Even closer to home, this is the first year since my daughter began school (she is in third grade) that she has not been bullied. My daughter has even been sexually harassed. This is a real problem for our kids today, and this is a book that teaches the Biblical way to deal with bullies. Who would dream of being told to love your enemies and pray for them? Granted, everything works out for Luke in this book (always nice to read a happy ending in a kids book), but the principles are key. I cannot recommend this book highly enough.
The author and illustrator work extremely well together. The illustrations fit so well with the story being told. Sometimes they even extended the story and carried it along. I loved it, and I would definitely love to read even more by the Gigglehearts. I have told my daughter that this required reading this summer! I know she will enjoy it as much as I did. And she will identify with Type A Luke (she is also type A). Why do I think Luke is Type A? Read the book, and I think you will see why!
I was sent a copy of this book in exchange for my honest review. I was not financially compensated in any way, and all opinions are 100 percent mine.