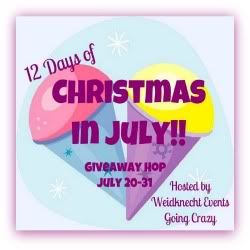 Are you thinking about Christmas yet? I know I sure am. And giveaways like this are just the thing to get me in the spirit. Read on for information!
12 Days of Christmas in July Giveaway Hop hosted by GoingCrazy!! WannaGo??!! and Planet Weidknecht!!
This giveaway hop is open from July 20th to 31st.
---
I have two fantastic items that I am being privileged to give away to you, my wonderful readers.
Okay, what says Christmas more than a rum cake? Not your first thought? Well, it should be!
Tortuga Rum Cake Company
is a company that offers all sorts of special treats made with the finest rum from the Cayman Islands. They have kept their standard of excellence for 25 years, and I am sure they plan to continue their fine tradition for the next 25 years or more. They continue to expand their variety of specialty foods, but you just can't beat their rum cakes! I had heard about them for a while, and I always wondered if they were as good as people claimed they were.
Well, my mom and I got a chance to try two of their mini cakes for ourselves, and I was quite pleased from the beginning. Each cake was packaged neatly as you see here:
Also, each cake was sealed in plastic to keep its freshness. We got to try the key lime cake and the original cake. As I opened each cake, I was amazed at how moist each one was. I first tried the key lime, and I enjoyed it quite a bit, but nothing could beat the original! My mom agreed. These cakes are incredibly moist and taste really good!
My mom wanted to know about these cakes because she thinks (as do I) that they would make a really good gift for someone. I told her about the site, shared with her the images and prices, and I told her about signing up for the newsletter. This company is almost always having some kind of sale!
If you have followed my blog for a while now, you have heard about
Tea's Tea.
This is a company that absolutely has the best bottled iced tea I have ever had, but they are so much more than that. They are a part of a bigger company that sells more than just bottled iced tea:
ITO EN.
Do you know about the health benefits of tea, especially green tea? I know it's often in the news, but sometimes we hear something like that, and it means nothing to us. Green tea is a superfood. It is something that you can drink iced on a hot day or hot on a cold night. Water sometimes just does not hit the spot. And coffee can make you jittery if you drink too much. But green tea has nothing but health benefits for you.
I was not aware of the all the health benefits that green tea provides. It comes from the Camellia sinensis

plant

, and the list of health benefits continues to grow. It helps prevent tooth decay, heat disease, cholesterol, body fat, and so much more. Just check out the nice long list here. Is it any wonder that green tea was voted the Superfood of 2012?
Adding green tea into your diet is much easier than you night think. In addition to drinking it (hot or cold), you can actually steam rice in jasmine green tea. I never thought of doing that. I think I just may have to try that some time.
Now, of course, you want to know about the specific products I reviewed. I was sent two bottles of Tea's Tea: unsweetened mint green tea and blueberry green tea. I will be honest and tell you that I had to add sweetener to the unsweetened tea, but the blueberry green tea was absolutely fantastic! The flavors are always just right, and I find that this tea quenches my thirst often more than just plain water. I was also sent a very nice large Tea's Tea tote bag. It is well-made and perfect for trips to the grocery store or wherever you may go.
About TEAS' TEA: Naturally brewed green tea infusion with peppermint leaves, rose petals, jasmine buds and so forth to create our 15 flavors of delicious green tea. Retails at $1.99 per bottle and sold nationwide in natural and conventional grocery stores like Whole Foods Market, Safeway and online at www.ITOEN.com and Amazon.
You will want to like Tea's Tea on
facebook
and follow them on
twitter
. You never know when they might offer a special contest or deal, and you don't want to miss it!
I received one or more of the products mentioned above for free using Tomoson.com. Regardless, I only recommend products or services I use personally and believe will be good for my readers.
Now on to the giveaway! One of my U.S. readers will get everything they need to have a great Christmas celebration in July. One reader will receive one 33 oz. rum cake (I'm jealous!) and the same prize pack I received from Tea's Tea--2 bottles of tea and a tote bag. Good thing the tea is iced since we're in the middle of summer, eh?
All you need to do is enter the rafflecopter below by July 31 9:00 P.M. Pacific time, and you are in to win!
---
Now Hop over to the other blogs and enter their giveaways!!