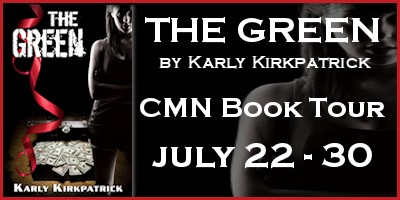 AUTHOR: Karly Kirkpatrick
How far would you go to save your dream?
Seventeen-year-old Ariceli Pisa is a senior at the prestigious Cambridge High School and has her sights set on Northwestern University. She's a cheerleader, a member of the National Honor Society...and a drug dealer. That's not the only secret she has to keep from her best friend Naomi--she's also madly in love with Naomi's ex-boyfriend, James Bartlett. Trying to balance her life at Cambridge High with her new demanding job keeps her teetering on the edge of disaster.
Until I reached the end of this book, I was quite willing to give it a rating of a four, but I have to admit that the ending disturbed me in some ways. I will get to that momentarily. Let me speak of the positives first.

I was very pleased with the fact that Ari was a "poor" Latino student who was trying to make something of herself. She was an "A" student, a cheerleader, and she had applied to a prestigious university. She even had a hot boyfriend.

Unfortunately, Ari turned to the "dark side" to try to get some extra money for her mom and for things she needed. Her brother had gotten involved in drugs, and Ari felt she had no other alternatives but to become a drug dealer. It was fast, easy money, and she was able to cover her tracks fairly easily. No one knew.

On New Year's Eve, everything changed. I won't give away the details, but this is the part of the book when things really picked up for me. I knew that Ari was going to have to face the music pretty soon. And, yes, there were a couple bad things that happened to her and to her family. And Ari finally made some good decisions.

I did grow tired of the profanity in the book, but it was not as rampant as other books I had read. Thankfully, there were no bedroom scenes. All these were things that did not impact the story much--just side notes.

The reason I decided to give this a rating of a three (even though the book was expertly written and the story was gripping) was that the ending left me feeling hollow. I know we all like happy endings, but I feel that an opportunity to give an important message to teens about drug use and drug dealing was missed. I am grateful that Ari finally made the right decision (and I never was involved in the drug scene, but I have seen firsthand what it can do), but I think there should have been some stronger consequences for Ari. It seems that everything happened in such a good way for her, and I think that gives the wrong message to teens. It is not easy to get out of the drug culture, and I believe there are lasting consequences even when one can go on and accomplish great things in life. This was what bothered me most about the book. I think something could have even been stated like that in the epilogue, but it was not either. Again, this is just my opinion, but I probably have a view that is different than a lot of people when it comes to young adult books.

While I would recommend this book for the most part, I believe that this book's themes do need to be discussed on various levels in order to make this a read that will impact teens in the right way. I am grateful that at least Ari made the right decision even though the decision appeared to be too easy for her. And she did have to suffer, so maybe that in itself is enough to get the message across.

I was sent a copy of this book in exchange for my honest review. I was not financially compensated, and all opinions are 100 percent mine.
View all my reviews
About the Author:
I've loved books as long as I can remember and I've been writing silly things (like notes, letters, diary entries, lame teen-angsty poems and a ga-gillion story ideas) since I learned to use a pencil. I decided one fine summer day that maybe I should give one of my many story ideas a chance. I wrote my first YA novel in 2007-2008 and have since added a picture book, screenplay for a short film, more YA novels, and a plethora of flash fiction (short stories).
I recently attended DePaul University and took grad classes in Writing and Publishing. I'll be starting screenwriting classes at the UCLA Extension Writer's Program this summer. I'm also a member of
DarkSide
and the
Indelibles
. I teach German and French at a high school or two in the suburbs of Chicago when I'm not writing. A lot of my characters come straight out of my everyday life. I live with my awesome teacher/law student husband, amazing daughter, and two occasionally stinky Shih Tzus in beautiful Elgin, Illinois.
Check out her blog, follow her on facebook, and check her out on twitter.
I am hosting an e-book giveaway of this book, and it will end on August 25 at 9:00 P.M. Pacific time. Because it is an e-book, it is open worldwide.
a Rafflecopter giveaway
I was sent a copy of this book in conjunction with
Charisma Media Network
, and all opinions are 100 percent mine. I was not financially compensated.