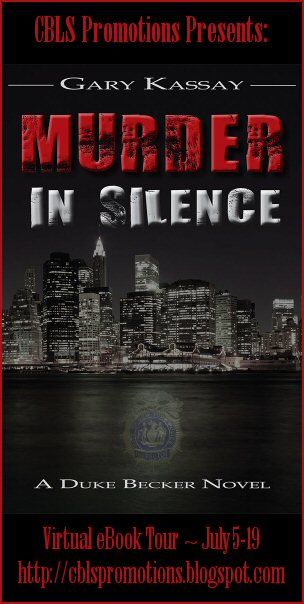 Murder in Silence (Murder, Book 1)
by Gary Kassay
Published by Sapphire Star Publishing
Mystery/Thriller/Suspense

Available at:
Sapphire Star Publishing

Blurb:Two police officers have been brutally killed by having their throats ripped out, but the wound appears to have been done with surgical precision. With no witnesses, no forensic evidence, and two bizarre clues to follow, the case falls to Inspector Duke Becker, head of the high profile Special Investigations Unit, Homicide.

Becker and his squad must find the killer before more cops are murdered. The case will lead Becker on a wild chase through the streets of New York City, back over 15 years into the past and to a cover-up that will rock City Hall.

Along with his brash, wildly dressed young partner, Jimmy Nova, the beautiful Michelle Goldman, Augie "Doggie" Rivera, and the Mutt and Jeff team of Bobby Green and Joe Robinson, Becker will need to enlist his boyhood friend in charge of CSU, Manny Velez.

Add a ruthless newswoman known to the NYPD as ""Wicked Witch Wilson" and a new love interest for Becker in the gorgeous and brilliant Dr. Elizabeth Cunningham, Becker is about to embark on the most difficult and dangerous case in his 20 plus years. Will Becker and his squad be able to catch the killer before more cops die or will the killer have the last laugh?
Remember the post and giveaway I did about this book earlier? The giveaway ends on the 24th, so don't miss out! Well, I was so impressed with the guest post that the author did that I agreed to review this book, and I am so glad I did!
I want to begin by saying that this is probably the absolute best mystery book I have read since Agatha Christie or Perry Mason. Those are my "go-to" mystery books, and I used to inhale them. For me, Agatha Christie and Perry Mason are the standards by which I judge mysteries, and this is a book I can recommend as highly as those.

I knew I wanted to review this book after the author posted one of the best guest posts ever on my blog. I was concerned that the book may be too violently descriptive, but I can tell you that I was wrong in that department. While the murders are somewhat detailed (and I would not want to see a Hollywood version of this book), I was only horrified and not repulsed by what was described. Don't get me wrong--the murders are horrific, but I felt that the author handled them in such a way so as not to make the reader overly squeamish.

I was also concerned about potential profanity and sex scenes. While I do not approve of sex before marriage, there are no descriptive bedroom scenes--and for that I am grateful. Yes, there was profanity, and while the book could have stood without it, I was not overly offended. It was not as rampant as other books in similar genres.

Enough about any criticisms. This book it absolutely mesmerizing! I almost could not put it down, and I started giving my mom chapter by chapter updates. The story seems so realistic and incredibly well-written. I felt that the characters were so well-developed. And thankfully all the twists and turns actually made sense--although I did not see the conclusion coming! In fact, I thought I had it figured out, and I certainly did not. It is clear that the author knows his setting and genre well.

I found it interesting that this book is considered non-romance. I beg to differ. There is a very hot and heavy romance that will delight the most romantic enthusiast! I look forward to seeing these characters in another book soon.

In short, if you like mysteries, romances, or thrillers, I would say this is a book you will enjoy. Be sure to check it out!

I was sent a copy of this book in exchange for my honest review. I was not financially compensated in any way, and all opinions are 100 percent mine.
To follow the rest of the tour, please click
here
.