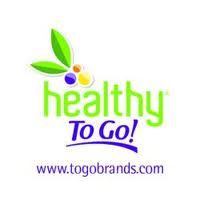 I am always looking for healthy snacks and drinks. I am one who adopted a healthy lifestyle years ago because I was tired of being overweight. I have kept off the weight all this time, and anything that helps me keep off the weight (and hopefully lose a few more pounds) is always a good thing.
I had heard of
Healthy To Go! Brands
before, but I had never had a chance to try their products. They have all sorts of snacks, drinks, and more to keep you healthy when you are "on the go." And, of course, that is how my life is! I am rarely able to sit down and enjoy a snack. My meals are often eaten on the run as well. This company is certainly one that understands my needs!
Because the item that I had requested was out of stock for some time--Smoothie Complete--the company sent me samples of several other items as well along with a full-sized container of the product I had requested. The focus of this review will be the Smoothie Complete.
When I tried the Smoothie Complete, I basically followed the directions. I put the powder in the blender with ice, yogurt, half a banana, and water. When I first tasted it, I did have to add some honey to it--it was a little bitter. My mom and I both drank the finished product, and we have several comment about it. Indeed, it was drinkable, and it was even somewhat filling. I could taste the strawberry flavor, but the whey protein was a little strong. It was better than some "diet shakes" I have drunk in the past, but I will not say it was my favorite. I am glad to see that there are
recipes
on the site, and I think that would be the way to try these smoothies.
I do want to mention the other items I got to try. The Green Tea To Go was absolutely out of this world! I put that packet in a bottle of water, shook it up, and I was amazed at the flavor--the best green tea I have ever tasted! That is something I could buy and drink regularly. I also tried the Vita Rocks when my energy was lagging at the end of last week, and I was amazed at the wonderful flavor (I thought I was eating flavored sugar), and I really did get a boost of energy as a result of eating it.
What is the verdict? I am going to give the smoothie another try, but I definitely want to invest in their other products. And I think that is the important thing to remember. Not everyone will like every product that Healthy To Go! Brands produces. However, they have such a wide variety of products that I think everyone can find something that they really like.
As a member of
Karma Media
I received this product from (insert company name) in hopes of obtaining a review. All opinions are my own.