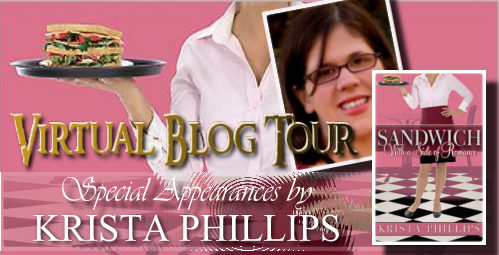 Join
Krista Phillips
, author of the Christian fiction romance,
Sandwich with a Side of Romance
, as she tours the blogosphere October 1 – 26 2012 on her first virtual book tour with
Pump Up Your Book
!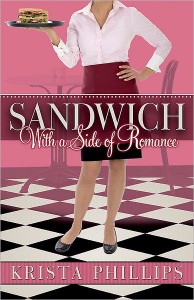 ABOUT SANDWICH WITH A SIDE OF ROMANCE
Sandwich represents hope for twenty-year-old Maddie Buckner and Kyle, the eleven-year-old brother Maddie wants to spring out of foster care. Then she loses her new job after less than a day on the clock. It's all Reuben-the-Jerk's fault, and she's determined to make him right the wrong.
He does so, reluctantly, by giving her a job at his restaurant, The Sandwich Shop. Then crazy things start happening at the restaurant, and Kyle's foster parents apply to adopt him. To stop it all, Maddie must learn the art of humbling herself and accepting the help God has arranged, risking her heart to Reuben in the process.
And she'd rather eat a million corned-beef on rye sandwiches than do that.
"Don't let the light-hearted cover and title fool you. Krista Phillips' spunky, rough-around-the-edges heroine may be "tickle me" funny, but her faith journey offers more than a cute read. There is depth here, made all the more satisfying served up with a generous side of romance."
- -Tamara Leigh, Author of Restless in Carolina and Dreamspell
When I began reading this, I wasn't sure I would like it. I have read so many vapid, sappy Christian romances, and I am often disappointed in the both story and the message. Well, I couldn't have been more wrong. This is a delightful romance, and I can honestly recommend it pretty highly. The story and the characters are fun. Actually, if Reuben is real, I'll drop everything and marry him now. And Maddie is an easy relatable character.

I found the message excellent. In fact, I was reminded that telling God what you want in life is wrong. After all, who is really in charge? I think both Reuben and Maddie learned that valuable lesson, and I only wish that real life could be as wonderful and fun as this story. The book is filled with great humor (I always love that) and one headstrong woman. And an arrogant man. Pretty par for the course.

I honestly can't think of anything that would improve this. It was refreshing to read a clean romance with no profanity nor sex scenes. In fact, the characters believe no sex outside of marriage. They even take precautions to make sure it doesn't happen. And there are some neat twists and turns that should heighten your interest even more.

I don't want to include any spoilers, but I absolutely adored the final line in the book, and it is the ideal way for this sweet book to end. This book will give you a nice break from real life and remind you that God can do anything even when life doesn't make sense.

i was sent a copy of this book in exchange for my honest review. I was not financially compensated, and all opinions are 100 percent mine.
Writing a book: A Family Affair
Being a mom of four and an author isn't simple.
One of the ways I manage is by making writing a family event. I try to involve my kids and husband as much as I can. My characters even become part of our dinner conversation when I'm deep in the throes of character development. When I'm writing, my kids have been known to come up to me and ask, "Hey, how's Jenny doing today, Mom?" or "What's Maddie up to now?"
In fact, I credit my eldest daughter for helping me brainstorm my debut novel,
Sandwich
, with a Side of Romance,
in the parking lot of a grocery store. While my husband ran in to grab a gallon of milk, I pulled out a notebook and said, "Hey Kara, wanna help me write a book?"
The answer was an ecstatic...YES!
She loved the name Madison. Mommy shortened it to Maddie.
She decided that Madison cut hair for a living. Mommy decided that she should be really new to the job.
Mommy told her that it was important for something bad to happen right near the first that would create conflict, which mean something that made the character really upset.
She decided maybe that she cut someone's hair bad?
Mommy agreed... and made that someone the eventual hero who was a little too obsessed with his hair.
She named the hero too, but a week later, I was talking to my husband about my story that was beginning to form, and that I'd decided it'd be a fun story to set in my birth town of Sandwich, IL.
My husband replied, "Honey, the guy's name is Reuben. That is the ONLY name you could give him if it's going to be in
Sandwich
."
I thought for a moment, afraid it was too hokey, but in the end, agreed. I am SO glad I did!
And thus was born
Sandwich
, with a Side of Romance.
It takes a village to raise a child. And it took a family to brainstorm a book!
About the Author: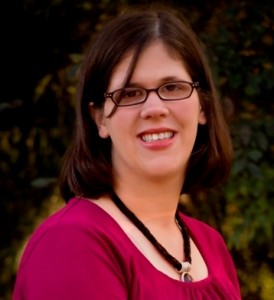 KRISTA PHILLIPS
is a debut author and owner of the popular blog,
One Woman's Dream
. She lives with her husband and four daughters in Middle Tennessee.
Her latest book is the Christian fiction romance,
Sandwich with a Side of Romance
.
Visit her website at
www.KristaPhillips.com
.
Connect with her on Twitter at
www.twitter.com/kristaphillips
.
Friend her at Facebook at
www.facebook.com/authorkristaphillips
.
Pick up a copy of
Sandwich
with a Side of Romance at her publishers website:
http://www.abingdonpress.com/forms/DynamicContent.aspx?id=163&pageid=701
Pick up a copy of
Sandwich
with a Side of Romance at Amazon:
http://www.amazon.com/Sandwich-Side-Romance-Krista-Phillips/dp/1426745923/ref=sr_1_1?s=books&ie=UTF8&qid=1346858324&sr=1-1&keywords=sandwich+with+a+side+of+romance
Follow the entire blog tour
here
And my U.S. readers are eligible to enter the giveaway below to win their very own copy of this book. This giveaway will end on October 27 at 9 P.M. Pacific time. So enter on the rafflecopter below--you won't be sorry!
a Rafflecopter giveaway