Welcome to the "Christmas Books" Giveaway Hop
December 1st to 7th
Hosted by I Am A Reader, Not A Writer & Laurie Here
I'm going to list a few Christmas books I have reviewed recently. Click on the pictures to read my review.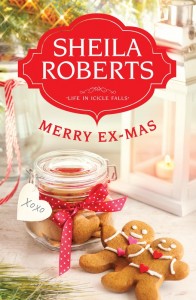 Cass Wilkes, owner of the Gingerbread Haus bakery, was looking forward to her daughter Danielle's wedding—until Dani announced that she wants her father, Cass's ex, to walk her down the aisle. Seriously? Even worse, it appears that he, his trophy wife and their yappy little dog will be staying with Cass….
Her friend Charlene Albach arrives at their weekly chick-flick night in shock. She's just seen the ghost of Christmas past: her ex-husband, Richard, who left a year ago when he ran off with the hostess from her restaurant, Zelda's. Now the hostess is history and he wants to kiss and make up. Hide the mistletoe!
And bring out the hot buttered rum, because the holidays aren't easy for Ella O'Brien, either. Ella, newly divorced, is still sharing the house with her ex while they wait for the place to sell. The love is gone. Isn't it?
But watch as Christmas brings all kinds of surprises….
Merry Ex-mas, ladies!
Ella Davies, is focused, independent, and driven. Her hard work is finally paying off and she is on the brink of great success. But what no one knows is that her frantic drive is born not from a desire to succeed, but from a need to forget – forget her past, forget her guilt, and mostly, forget the tragedy that changed her life forever.
Ella's strategy seems to be working but on Christmas Eve she meets Cohen, a strange man with an even stranger purpose. Cohen catapults Ella back through time and forces her to confront not only her own pain, but the pain of those long since passed. In the process, Ella learns about courage and compassion and that in the darkest hour, no one is ever alone.
Christmas everyday sounds like the best thing ever to Bella and her sisters. But when a special Wishing Stone grants her heart's desire, The Three Lost Kids discover the curse hidden in the wish.
Now they have to stop Christmas no matter what--even if that means ending up on Santa's Naughty List.
Will the girls learn the true meaning of Christmas and find a way to break the curse? Or will they be stuck in their self-created Jingle Bells Nightmare forever?
For my international readers, you will get to pick a Christmas book $12 or under. It can be one of the books above or another one. But it needs to have something to do with Christmas. Enter below.
a Rafflecopter giveaway
Though not a Christmas book, this is a bonus giveaway I will feature here. This giveaway will be for U.S. only.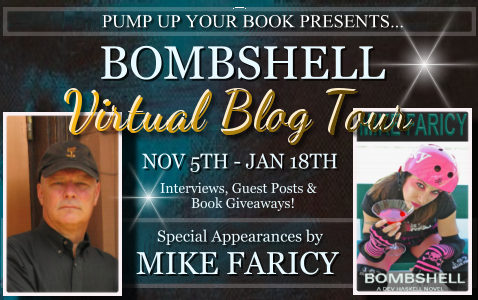 I am featuring the book Bombshell by Mike Faricy.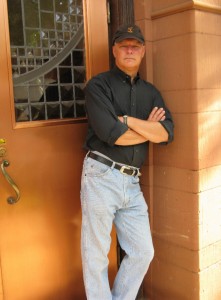 Mike Faricy is the award winning author of mystery suspense thrillers woven together with a rich strain of humor and even some romance. He and his wife live in Saint Paul, Minnesota and Dublin, Ireland.
His entertaining tales are populated with the sort of quirky, oddball characters we'd all like to know more about, but wisely prefer to keep at a distance. They serve not so much as examples as they do warnings to the rest of us. None of his characters will be saving the world from terrorism, international banking conspiracies or coups to topple the government. Rather, they're individuals inhabiting a world just below the surface of polite society. The difficulties they find themselves in are usually due to their own bad decisions, but then, bad decisions make for interesting tales.
All of his books are stand alone, read them in any order you wish. Russian Roulette introduces the bizarrely devilish Devlin Haskell as a PI with a foot on both sides of the law. Dev's adventures continue in Mr. Softee and the soon to be released Bite Me. Mike is currently working on his latest top secret project. He graduated High School from St. Thomas Academy and earned a BA in history from St. Norbert College.
His latest book is the crime fiction, Bombshell.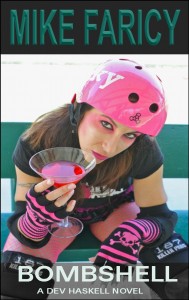 Dysfunctional, bumbling, crazy babe-magnet Dev Haskell, P.I., becomes the envy of every guy with a heartbeat when he's hired to watch over a team of gorgeous English roller derby stars. Though he'd rather be standing guard in the shower room, he suddenly finds himself under arrest and found guilty before he's even charged. He's got an attorney who drinks too much, a beautiful woman with a bad attitude, a feisty team of females ready to kill him – and no answers. Bombshell is another fast paced, engrossing suspense thriller from Minnesota's master of the bizarre, Mike Faricy.
One U.S./Canada reader will win a paperback copy of the book. Just enter the rafflecopter below.
a Rafflecopter giveaway
After entering my giveaways, be sure to hop on for the chance to win even more books!