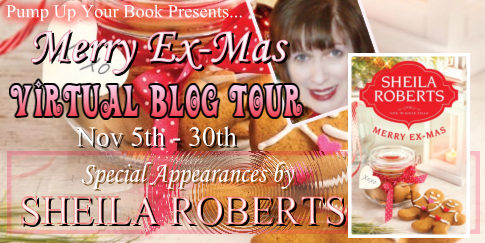 Join
Sheila Roberts
, author of the holiday fiction,
Merry Ex-Mas
, as she tours the blogosphere November 5 – 30 2012 on her seventh virtual book tour with
Pump Up Your Book
!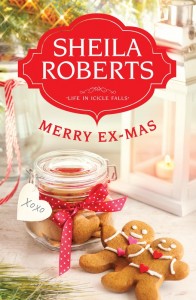 Cass Wilkes, owner of the Gingerbread Haus bakery, was looking forward to her daughter Danielle's wedding—until Dani announced that she wants her father, Cass's ex, to walk her down the aisle. Seriously? Even worse, it appears that he, his trophy wife and their yappy little dog will be staying with Cass….
Her friend Charlene Albach arrives at their weekly chick-flick night in shock. She's just seen the ghost of Christmas past: her ex-husband, Richard, who left a year ago when he ran off with the hostess from her restaurant, Zelda's. Now the hostess is history and he wants to kiss and make up. Hide the mistletoe!
And bring out the hot buttered rum, because the holidays aren't easy for Ella O'Brien, either. Ella, newly divorced, is still sharing the house with her ex while they wait for the place to sell. The love is gone. Isn't it?
But watch as Christmas brings all kinds of surprises….
Merry Ex-mas, ladies!
What a perfect romance for this holiday season! This is the kind of book that you can curl up with and enjoy in front of a roaring fire and have a Hot Chocolate (with peppermint Schnapps--read the book, you'll understand why!). Imagine having your ex come back into your life during the holidays. That is exactly what happens for Charley, Cass, and Ella, Each one has their own story, and the ending just may surprise you. The ride is filled with humor and the true meaning of family.

There's no way I couldn't give this book high praise. After all, it has a Pacific Northwest setting! Add some great romance, a daughter's wedding, a fire, and much more. This book was so refreshing in the overpopulated world of romance novels. It was an easy read, and there was practically nothing inappropriate. There was some profanity, but there were no bedrooms scenes. They were only implied. It was neat to see that everyone still went to church in spite of everything. No, it's not a Christian romance, but it is an almost squeaky clean romance that will get you through the tumultuous holidays. Shelia Roberts is an author I would love to read again and again. Looking briefly through her other offerings, it looks like Christmas romances are her specialty. I only wish I had time to drop everything and read all of them!

My absolutely favorite part of the book comes right towards the end. It involves a dog and a cake, and that is all I can say. I found my heart melting as I read the outcome. It even caused me to sight with pleasure. Since I am a divorcee, I could somewhat relate to the characters in the book even though my situation is completely different. If you are looking for a book that you can enjoy this holiday season, this just may be it!

I was sent a copy of this book in exchange for my honest review. I was not financially compensated, and all opinions are 100 percent mine.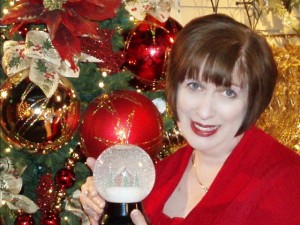 Sheila Roberts lives in the Pacific Northwest. She's happily married and has three children. Her books have been printed in several different languages and have been chosen for book clubs such as Doubleday as well as for Readers Digest Condensed books. Her best-selling novel ON STRIKE FOR CHRISTMAS was made into a movie and appeared on the Lifetime Movie Network. Her novel ANGEL LANE was named one of Amazon's Top Ten Romances for 2009.
When she's not making public appearances or playing with her friends, she can be found writing about those things near and dear to women's hearts: family, friends, and chocolate.
Her latest book is Merry Ex-Mas.