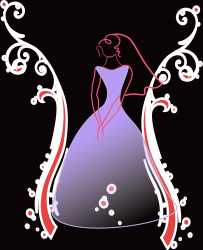 Way back when I got married, I remember the importance of picking out a special wedding guest book. When your friends and family members sign your
wedding guest book
, it is much more than just a record of who was in attendance on your special day. It also gives your guests a chance to share a special message with you that can be read and reread for years to come. Weddingstar is your one-stop shopping place for a wide variety of styles and designs that will complement your wedding to a tee.
If you are looking for something fresh and meaningful, you may wish to consider having your guests sign the framed mate a photograph. Choosing your own wedding verse or photo will make this something that can be displayed in your home for years to come. Even taking it a step further, Weddingstar offers an inscribable mat kit so your guests can make a permanent etching that will not fade over the years.
No matter what theme our wedding favors--traditional, contemporary, or something in between--Weddingstar's line of wedding guest books are the highest quality you will find anywhere. You will see embellishments such as embroidery, ribbons, and signature patterns, and these only make these wedding guest books that much more alluring. You can find practically any kind of guest book that will fit your style and can even be personalized for that one-of-a-kind look.
Are you in the mood for something truly unique? Use one of their guest books and add a photo or memento for that extra special touch. You may even wish to use something besides and actual book. Consider the option of the Perfect Pair Jar. Encourage your guests to leave personal notes or wishes just for you on your special day. The options are positively endless.
It is true that your wedding guest book will probably be the very first thing your guests see, so it is imperative that you pick something that is unique and sets the tone for your wedding. And most importantly, it should reflect you. Whatever you use--book, photo mat, jar, or something else--rest assured that Weddingstar will provide you with high quality, personalized products that will truly come to be a cherished memory.