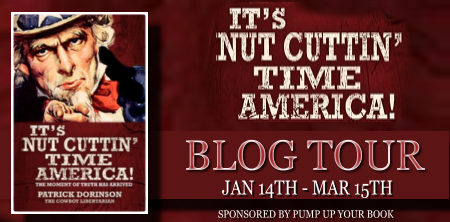 Read more about the book
here
.
It's Nut Cuttin' Time America!
by
Patrick Dorinson
My rating:
5 of 5 stars
This was a thoroughly, wonderfully fun book, and I can happily recommend it to anyone. But let me caution you. Patrick Dorinson is a cowboy by nature, basically conservative, and he doesn't mind telling you how it is. Any profanity used in the book is extremely miniscule, and I did not find it overly offensive. I appreciated his no nonsense view even though some of the articles are outdated (this came out before November's 2012 election).
Patrick Dorinson is a pretty gifted storyteller, in my opinion. I love his little scenarios that are taken to an extreme that is quite ridiculous but contains more truth than you would like to admit. I tend to agree with his politics, and I certainly love his style. I even learned things about history. What I also appreciate is that he is basically fair and balanced. As much grief as he gives the left, he continues to give just as much (if not more) criticism to the right. All in all, an exceptional book!
I was sent a copy of this book in exchange for my honest review. I was not financially compensated, and all opinions are 100 percent mine.
View all my reviews