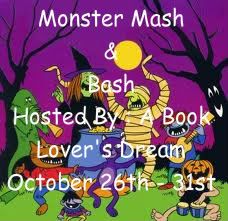 Welcome to the Monster Mash & Bash Giveaway Hop hosted by
A Book Lover's Dream.
This is another great place to win books and book-related items. And speaking of book-related items, that is what my giveaway is. For many years now, I have been enthralled with
War of the Worlds
by H.G. Wells. My daughter loves it too. She has read part of the kid's version, and she has tried to read the original book as well. I was first introduced to this story via Jeff Wayne's musical version. This is a 1978 CD version of the book that is more like an audio book with music. It follows the story fairly well, and it stars some great people like Robert Burton, Julie Covington and others. I used it in my teaching around this time of year, and the students always enjoyed it. If you never have read the original book, I highly recommend it as well.
So, my giveaway will be a little different this time. If you live in the U.S.,
You will receive this CD and up to $10 worth of other items from Amazon (so I can get the free shipping!). If are international, I will be sending
War of the Worlds
book with up to $10 towards one other book from Book Depository. There will be only one winner, and what you receive is decided by where you live. If you live in the U.S., you will have the choice between the two prize packs. But I have to highly recommend the CD--even if you are not familiar with it. (If amazon ships to your country with a similar deal and the items are available in your country, you may be able to go with the first prize package, but we will decide once the winner is chosen.)
So now onto the entries. I am using rafflecopter for this giveaway, and all entries need to go in that form. This giveaway will end October 31 at 9 P.M. Pacific Time. And after you enter my giveaway, don't forget to hop on to the other giveaways!