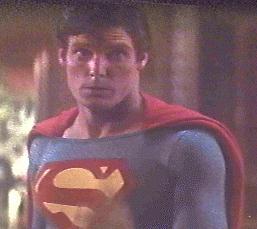 What a day this was. Anyone remember this guy? My daughter would know right away. Christopher Reeve--the ultimate Superman. I have to admit I only saw the film with my daughter in recent years--I just didn't go to movies like this way back when I was growing up. But that doesn't mean that I didn't know who Christpher Reeve was!
He was born September 25, 1952, in New York City. When he was four, his parents divorced. He and his brother moved with her to New Jersey, and she married again a few years later. He and his brother attended Princeton Day School (financed by his stepfather), and it fueled the great intelligence and talent that he had. By the age of 8, he became involved in theatre, music, and piano. He also enjoyed ice hockey and considered making a career of it until he had a reality check at Cornell University. He majored in Music Theory and English instead. He also studied theatre in Britain and France.
In his final year of study, he and fellow student Robin Williams were allowed to move on Julliard School of the Arts. When his stepfather could no longer pay for Reeve's studies, Reeve took a role in a soap opera. And then he had the opportunity to work with Katherine Hepburn in the play
A Matter of Gravity
(1976) on Broadway. He no longer had time to devote to his studies, so he did not complete his final year.
In 1978, he auditioned for and won the role of Superman. He did it primarily as a career move--he knew he could go straight to the top. And he did. He then went on to star in
Somewhere in Time
(if you haven't seen it, you just have to!). In addition to many more films and television shows, he also was active on the political scene. He supported many different causes such as Amnesty International amongst others.
He was an accomplished classical pianist, composer, and an avid outdoors man. He did his own stunts, earned his pilot's license, and became and expert sailor, scuba diver, and skier. Horses, however, became his passion.
Unfortunately, this passion is what led to a freak accident May 27, 1995. A horse threw him to the ground, and he broke his neck. Amazingly, he survived but was paralyzed from the waist down. True to who he was, he went to a rehabilitation center for six months and then returned home. He used his injury to spread the word about these kinds of injuries. He actually did a remake of the film
Rear Window
in 1999 (It is amazing!).
In October of 2004, his wife was out continuing her acting career. Reeve was promoting his new movie
The Brooke Ellison Story
(he had directed it). He was being treated for a pressure wound--very normal for people with paralysis. There was some infection, but it was nothing abnormal. On October 9, he attended his son's hockey game. That night, he went into cardiac arrest after being treated with an antibiotic. He went into coma, and with the help of Robin Williams's wife, Reeve's wife was able to get back to his bedside in time to bid him goodbye. He died on this date in 2004.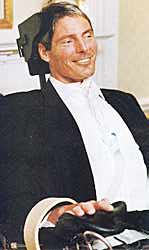 I remember hearing about both incidents. I remember that we all feared for Reeve's life after the injury in 1995. And his recovery was absolutely amazing. I was astounded when I watched
Rear Window
. That was the first film I ever saw with Reeve. When I heard about his death, I was dumbfounded. And I guess I now understand that it was sudden and unexpected. What a shame that such a wonderful man as he died so young--at the age of 52. But as long as his films still are watched all over the world, his spirit will continue to live on. I think one of his doctors put it well:
"Before [Reeve] there was really no hope. If you had a spinal cord injury like his there was not much that could be done, but he's changed all that, he's demonstrated that there is hope and that there are things that can be done."
If you are interested, check out these links for more information:
http://www.history.com/this-day-in-history/superman-christopher-reeve-dies-at-age-52
http://www.answers.com/topic/christopher-reeve
http://www.chrisreevehomepage.com