Painted Jezebel
(A Jezebel Jinx Mystery, Book 1)
by Jolie Pethtel
Publisher:
Museitup Publishing
Length:
65,000 Words
Sub-Genre:
Comedy, Contemporary, Mystery/Thriller
Available at:
Amazon
Museitup Publshing
Blurb:
Publicist Finn Mackenzie has always been lucky, until an ill-fated affair with a vindictive writer leaves him one chance for redemption: a spectacular public appearance by the elusive best-selling romance author, Jezebel Jinx.
Unfortunately, the cute but kooky writer refuses to cooperate. Jezebel believes she's cursed with bad luck. Riddled with anxieties, she never leaves her home--until the gorgeous, albeit desperate Finn whisks her away to a writer's conference, against her will.
After the initial shock wears off, Jezebel's dormant hormones kick into high gear around the hunky Finn.
When his ex turns up murdered and Jezebel is the prime suspect, ill-planned sexcapades are the least of their worries.
"Someone was just murdered and I'm the prime suspect. Detective Tyler has gone around smearing my good name with everyone at the conference and here I am strutting around in a bikini. Don't you think a one piece might have been more—I dunno—respectful?" Jezebel hovered uncertainly in front of the door marked heated pool. "Maybe a black one piece to show I'm in mourning."
"You can't flirt with lifeguards in a one piece. It just isn't sexy enough. Besides, you aren't in mourning. No one is. Did you see the celebrating going on in the bar? 'Ding dong! The witch is dead' is pretty much the attitude in there. If they could give you an award for killing her, they would."
"I didn't kill her," Jezebel hissed.
"No, you didn't, but if you want to prove your innocence you need to seduce some information out of that lifeguard."
"My boobs are too small to seduce anyone. My legs are really my best asset, which I could display just as well in a one piece."
"Rick might be a boob man. That is why you are wearing a size too small and we bought a bikini that lifts." He mimicked cupping and lifting with his hands, without actually touching her breasts.
"I'm going in." Jezebel stated as she rolled her eyes, and then stepped toward the pool area entrance. "Think sex goddess," she ordered herself, adding some strut to her walk.
Finn insisted on the fire engine red bikini and matching strappy high heeled sandals. Who wore high heels to the swimming pool? This was wrong on so many levels.
"You look smokin' hot, babe," Finn called out. His idea of encouragement. Well, that was nice to know. Jezebel added a little roll to her hips just for his benefit, before pushing open the door and disappearing from sight.
Painted Jezebel
by
Jolie Pethtel
My rating:
5 of 5 stars
I will be honest. I planned on giving this a four star rating up until the last few pages. Not because I did not like it, but I figured it was your typical romantic mystery. I enjoyed everything about it, but when the author introduced a plot twist in the last few pages of the book (when typical romances just tie up loose ends and wind down the action), I knew this deserved a five star rating!
I was very grateful that the author warned the reader about the sexual content in the book, and I was also pleasantly surprised that it was much less than the vast majority of romance novels. The profanity was relatively mild, and the sex scenes were fairly tame. And it was good to see that some morals were embedded in the book--I always appreciate that.
When a romance author picks a heroine that shares her profession, I think she makes a very wise move. They always say that you should write about what you know, and if a romance author writes about a romance author, what could be better?
I was quite impressed to see the growth of Jezebel Jinx. I liked seeing the blossoming romance between her and Finn. And I must say that the murder mystery only made things much more interesting. I only partially figured things out, and the climax was quite action-packed.
Bottom-line, I recommend this book to romance aficionados and mystery enthusiasts alike. I think there is something there for everyone, and I look forward to the second book in the series!
I was provided with a copy of this book in exchange for my honest review. I was not financially compensated in any way, and all opinions are 100 percent mine.
View all my reviews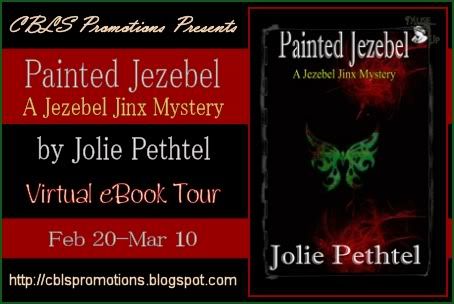 ABOUT THE AUTHOR:
Jolie Pethtel was born in Ohio, but raised in Arizona, where she met her husband Jim. Jolie has since moved to Indianapolis, Indiana where she lives with her husband and their six rambunctious children. Jolie is a Domestic Goddess by day and Writer by night.
Author Website
Fan Page
Facebook
Twitter
Be sure to follow the rest of the
tour
!