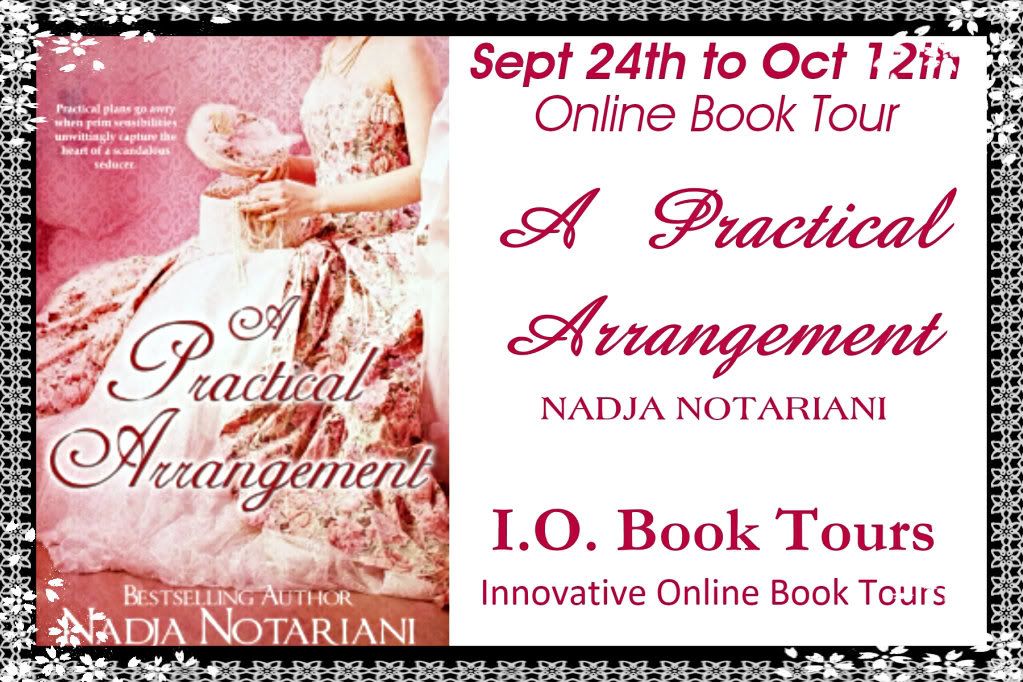 Welcome to my stop on the book tour of Nadja Notariani's A Practical Arrangement presented by Innovative Online Book Tours. Read on to find more about the book, read a guest blog by the author, and even enter a fantastic giveaway!
Practical plans go awry when prim sensibilities unwittingly capture the heart of a scandalous seducer.
Miss Evangeline Grey, intelligent and sensible, has no desire to marry, her reluctance born from the dire warnings of her overly emotional mother. Her father has other ideas, however, and decrees that unless she weds by the spring, he will choose a husband for her.
Prim and proper Evangeline accepts her father's issue with little more than mild alarm. Knowing herself plain of face and sharp of tongue, she believes herself capable of warding off any perspective suitor. Her plan goes awry when the scandalous seducer, Mr. Thomas Masterson, visits her family's home, for Thomas has learned that he must procure a wife to receive his full inheritance.
When he discovers Evangeline's predicament matches his own, Thomas determines to orchestrate a practical arrangement. A war of wit and word results, and Thomas finds himself ever more beguiled by the soft heart he discovers under Miss Grey's stern, inhibited exterior. Patiently, he endeavors to gain her respect and awaken her passions. As tenuous trust blooms between the rake and the reluctant, unfortunate events – and Thomas' past reputation – threaten to destroy the peace and happiness he has found within the bonds of his Practical Arrangement.
Author: Guest Post
Developing Characters
Writers imagine a story line. They plot and plan, twist and turn, foreshadow and hint – all to entertain and intrigue. But even the most delicious plot disappoints without well-developed characters. Characters bring the plot to life, give it breath and lure us in. Through them, we become invested in the story, we care whether the conflict is resolved, we hope for their triumph. A story becomes their story – and sometimes even our story. Character development is key to crafting a great novel. When I wrote my first novel, I simply sat down and began a narrative. No outline, no character profile packets...no anything but imagination. But that story had been brewing for some time. When I endeavored to write my next, I pondered how to create characters that fit the storyline. It was a process; and the process has evolved in my two novels since. I use a character profile chart to flesh-out my characters. Through it, I shape each main character's personality – and aid my efforts in keeping my hero or heroine true to that personality as they grow. The first issue is to resolve who, exactly, will fill a role. I keep this step simple: name, age, description, nationality, family members, favorite colors and sundries. From there, I move into deeper waters, creating little nuances to add depth to the character. Perhaps the heroine will have a scar on her hand. If so, I note when, where, and how she earned it as well as her feelings about it. Or maybe the hero uses a particular saying often. Creating answers to questions such as, 'What type of childhood did _____ have?' or 'What would be the worst thing that could happen to _____ in their eyes?' helps me to know my characters – thereby helping me to write greater meaning into their interactions within the pages, which in turn fosters insight into the heart of my hero or heroine for readers. What is your hero's greatest fear? Your heroine's strongest trait? Which vices do your characters struggle to overcome – and which virtues do they champion and respect? Does your antagonist have an unusual habit? How does your heroine react when stressed? Did one event irrevocably shape him/her? These questions develop your character and will be a valuable asset as you tell your tale. Leafing through my character profile packet reminds me of traits, mannerisms, and quirks I want to highlight, characters' memories I want readers to share in, and the secret dreams I hope readers will embrace as they read on. ~ Nadja
Nadja Notariani was born in Rochester, Pennsylvania. Her upbringing included very diverse environments, affording wide and varied richness of ethnic and religious tradition. Raised in both an Italian/Mediterranean American home and a traditional German household, Nadja gleaned the unique benefits of viewing the world through two widely different lenses.
Nadja resides in Northeastern Pennsylvania, ever embracing new adventures with her husband, three sons and faithful German Shepherd. She also boasts two grown daughters, who have flown the nest to pursue their own adventures.
Within her titles, readers can find romance and adventure, from contemporary to paranormal to historical, always with a happily-ever-after. Nadja enjoys hearing from readers and can be found at her website, on Facebook, Goodreads, and at Romance Novel Center. Readers are welcome to contact her via email.
Goodreads
http://www.goodreads.com/author/dashboard
Ready to buy the book?
Kindle
Would you prefer trying to win a copy of the book? You will have five chances to win an e-copy of this book. Just enter the rafflecopter below by October 13! The giveaway is open worldwide.
a Rafflecopter giveaway
Now that you have read this post, be sure to check out the rest of the tour
here
. For the sake of convenience, here are the next few stops:
9/25 Sultry Storyteller Interview
9/26 All Things Writing Guest Post
9/26 Reading Romances Review and Giveaway
9/27 T B R Review and Giveaway 9/27 Free Book Dude Review and Giveaway
I hope you enjoyed your stay!