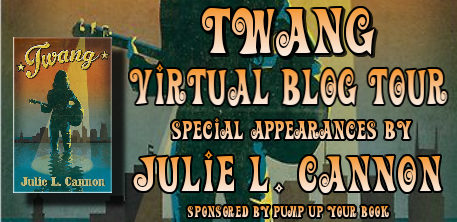 Join Julie L. Cannon, author of the Christian fiction, Twang, as she tours the blogosphere September 4 – 28 2012 on her first virtual book tour with Pump Up Your Book!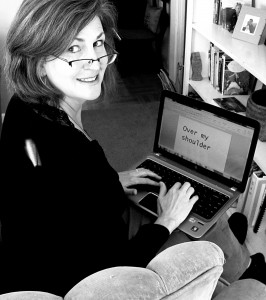 Julie L. Cannon is a bestselling author, speaker and teacher. She believes that using your memories to write autobiographical fiction is both cathartic and powerful, and when Julie isn't busy writing, she can be found leading memoir workshops, encouraging others to encourage others on this journey called Life. Julie has captured many awards in the ABA as well as the CBA. She loves growing flowers and listening to country music at her home off Hog Mountain Road in Watkinsville, Georgia.
Her latest book is the Christian fiction novel, Twang.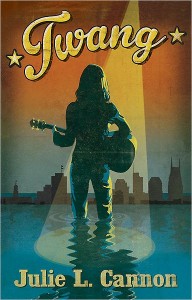 The songs Jennifer Clodfelter writes and sings aren't from her imagination. With innocence and passion, Jenny pours the pain from her childhood into the lyrics of one Billboard Country hit after another. Her manager assures her that confronting formative years wrapped in violence and poverty is a necessary evil, part of the unstoppable force of her destiny to become a Country Music Diva. And for a while, little Jenny Cloud is in heaven. She basks in the spotlight on stage and the wild applause of her fans. But as she pours herself into writing more and more autobiographical songs, Jenny begins to find the emotional fallout is staggering. When she revisits a dark memory she thought was long-buried, she begins to seriously wonder if the high price she's paying to write her hits is worth it. Jenny's hairdresser, Tonilynn, sees the wounded little girl beneath the star's on-stage smiles and she attempts to fix her broken spirit along with her hair by counseling Jenny to pour yet another long-repressed story of her father into a song. Is singing for her sanity a possibility in this instance? Would another hit song be therapy enough to reconcile Jenny and her dark past? Jenny Cloud faces the music with music.
This was a pretty typical Christian book with some things that set it apart from other books in the genre. Adding in the author's love of country music and following Jennifer as she rose from obscurity did make this somewhat intriguing at times. I also love country music, and the insight into this amazing industry often captured my imagination and made me think about the stories of some of the current country stars.

The gospel was presented in its entirety in this book, but sometimes it seemed a little forced or even out of place. I was glad to see the ending occurred as it did, but it was pretty predictable. There was nothing that really took me by surprise, and everything happened like you thought it would. That makes it a light-hearted, easy-to-read book.

It was good to have the inclusion of the Nashville floods from a couple years ago because that is something that time has forgotten. I am also pleased to report that there was no profanity nor sex scenes included--a nice, clean read. I did feel a couple loose ends were never tied up, but that happens in books now and then.

If you are looking for a feel-good book that appeals to country music fans, this would be a book to read. Nothing deep, but this is an unpretentious book that happens just as it should.

I was sent a copy of this book in exchange for my honest review. I was not financially compensated, and all opinions are 100 percent mine.