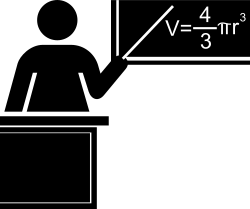 Let me begin by saying that I am a teacher. I am now in my seventeenth year of teaching, and I think it is safe to say that I have practically done it all in the world of education. My experience covers everything from office work, substitute teaching, and thirteen years of music teaching. I have taken a considerable amount of educational classes (not for credit), and I have even taught one or two. For me, there is not much better than getting more training as an educator. There are times I would rather sit in class learning to be a better teacher than actually put it into practice!
In this day and age, the job market is highly competitive. And unfortunately, you will see this in the educational field as well. Although it seems that we are in great need of good teachers, it is not so easy to get your foot in the door. There is nothing that opens the doors better than getting more education and getting credit for it. Do you want school districts to take you seriously? I have a proposition for you to consider.
Everyone seems to be going back to school, and teachers can, too.
Consider getting a master in teaching
with an accredited online university. Nothing can be more convenient for a teacher than to get their degree online. No need to go to a campus and attend classes. Since it is online, you get to make the decision concerning when you do the work and "attend" classes. And in so doing, you will have the opportunity to learn the latest educational and theory research and apply it to your current classroom. Outdated techniques and teaching styles are a sure "turn-off" when it comes to getting and/or keeping an educational job.
In addition to getting your advanced degree, the university offers you an Applied Learning Guarantee. This means that for one year after your graduation, you will have access to faculty members who can act like your mentors. Remember when you took all those classes in college and the information went into your brain and back out again? Why did that happen? You never had a chance to use what your learned! This service will actually help you to implement what you learned into your coursework.