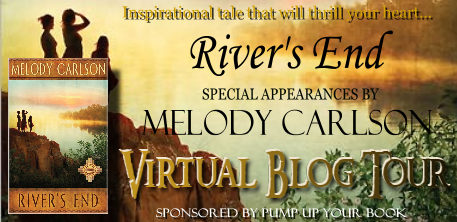 Read my promotional and guest post
here
. The giveaway will be posted tomorrow.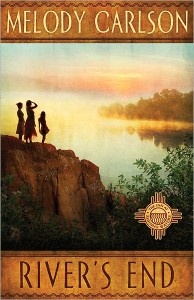 ABOUT RIVER'S END
In the final story of the Inn at Shining Waters, Anna's granddaughter Sarah is struggling to find herself. And in an attempt to escape her parents' dysfunctional lives, Sarah travels away from all that is familiar. But her grandmother's love and the pull of the river draw Sarah back. Still it's not an easy journey to find the healing and forgiveness that's needed to reunite and strengthen this broken family together again.
"In this series it shows the lasting consequences that can happen when we let bitterness poison our hearts and keep us from the opportunity to say our final good-byes to those we love the most. It shows how forgiveness isn't about letting someone off the hook for the pain they have caused, but more about the healing that happens within our own hearts when we can let the burden go and finally move forward in freedom spiritually."
– Pirate 2240, Amazon reviewer
River's End
by
Melody Carlson
My rating:
4 of 5 stars
It was very difficult to decide on a rating for this book. And you might be surprised that I put it in the historical category. Read on, and I think you will discover why.
First of all, this is a clean read. No profanity, no sex, no violence. It is a Christian book, and the faith of the characters is woven extremely well into the story. I realize I am at a disadvantage since I have not read the other books in the series, but you can actually jump right into this book with no previous experience with the author or the series. I never felt lost.
I enjoyed the historical aspects of the story. When I realized that the cult started by James Jones and its subsequent massacre was mentioned in the book, I was amazed. While this is only a very small portion of the book, and it does not directly impact any of the characters, this heightened my interest in the book. I was able to put into perspective the time period during which the book took place. I call this historical fiction even though no one else may. I also enjoyed the fact that this took place in Oregon. I love books that are set in the Pacific Northwest (since I live there).
The story itself was very moving at times. The message, I think, would speak to everyone. Forgiveness and releasing bitterness is probably something all of us sometimes struggle with.
My criticisms are minor, but they did sometimes keep me from enjoying the book as much as I could have. I sometimes felt I did not know the characters as well as I should, but that could be due to not reading the rest of the series. I also felt that sometimes things worked out too well for Anna. I would have liked to have seen a little more tragedy happen to her. I sometimes prefer a little more realism, but that is just a personal preference. I also felt that sometimes the event happened too quickly. That may sound strange, but sometimes the events seemed a little choppy. The epilogue really seemed to cram a little too much into a few pages. But again, this is just my opinion.
In conclusion, I would recommend this book to those of you who like inspirational books and family-friendly books. I think you will find what you are looking for in this book.
I was sent a copy of this book in exchange for my honest review. I was not financially compensated, and all opinions are 100 percent mine.
View all my reviews
To follow the entire tour, click
here
.