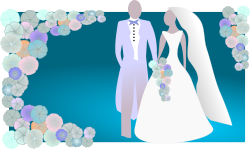 The first time that most people will hear about your special wedding day will be in the form of an invitation. Don't underestimate the significance of these little pieces of paper. Very often, your invitations will set the theme for your wedding. When it comes to invitations, you have a choice to make. You may wish to just sent a generic invitation in order to keep the theme of your wedding a secret. Or, if you prefer, you may select an invitation design that matches the theme of your wedding. Regardless,
wedding invitations
will be the first thing your future guests will see before the wedding, and based on what they see, they will make their choices about whether to attend and what kind of wedding it will be.
If you are a follower of tradition, you will want to include and RSVP card with your invitations. Depending on your wedding ceremony and the reception afterwards, your RSVP can be simple or elaborate. Make sure that you take the time to think through what information you need from your guests and what information they need from you. You may only need a simple card with the address of the church/reception and a place to check if that particular guest is coming. If you are offering some kind of sit-down dinner, you will want to include a more detailed RSVP cared in which your guests will write how many are coming, any special dietary needs, etc.
Although both of the aforementioned ideas are extremely important, the wording of your invitation is possibly the paramount portion of your invitation. Before you write those invitations, be sure to check wedding etiquette on this topic. You don't want to be offensive or leave anything out. Make sure that decisions about financial responsibility are covered in full before sending out the invitations. You don't want any surprises on your wedding day, nor do you wish to offend any or your perspective guests. You also want the information completely correct. Financial decisions will also help make sure that no wedding invitation faux pas occur.