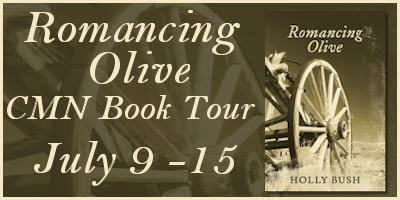 In 1891, spinster librarian, Olive Wilkins, is shocked to learn of her brother's violent death at a saloon gaming table and her sister-in-law's subsequent murder, traveling far from her staid life to rescue her niece and nephew, now orphans. She arrives to find the circumstances of her brother's life deplorable and her long held beliefs of family and tradition, shaken.
Accustomed to the sophistication of Philadelphia, Olive arrives in Spencer, Ohio, a rough and tumble world she is not familiar with, facing two traumatized children. Her niece and nephew, Mary and John, have been living with a neighboring farmer, widower Jacob Butler, the father of three young children of his own and a man still in pain from the recent loss of his wife.
Real danger threatens Olive and Mary and John while Jacob and his own brood battle the day-to-day struggles for survival. Will Olive and Jacob find the strength to fight their battles alone or together? Will love conquer the bitterness of loss and broken dreams?
Read an excerpt here.
What a breath off fresh air! This book was one of the best historical romances I have read in a while, and it was an absolute delight from start to finish. I have never read anything by Holly Bush, but she has quickly become one of my favorites.
First of all, yes, this is your typical "Western" romance (West meaning Ohio). But there are some things that make it stand apart from the others. Olive in a near-40 spinster, and Jacob is a 20-something widower. Olive has a niece and nephew, and Jacob has three kids. There was a horrid murder before the book even began, and things are not always as they seem.
It was such a pleasure to read a book that was full of laugh-out-loud humor. The interactions and chemistry between Olive and Jacob was absolutely flawless. Watching the way that circumstances and life changed the characters over the course of the book was an absolute delight.
I was glad that the morals of the main characters were definitely intact. I was glad that church and God played a significant part in their lives as well. There were no bedroom scenes (thankfully), but many of the scenes were still pretty intense. There was some profanity, but it was fairly mild and sometimes used rather humorously. I honestly did not find it offensive.
I won't tell you how the book ends, but the author has woven a truly wonderful tale that will keep the reader's attention until the end. I would highly recommend this book to anyone with a love for historical romances. I can only hope that a sequel eventually comes out because I would love to know what adventures Olive and Jacob face next!
I was sent a copy of this book in exchange for my honest review. I was not financially compensated, and all opinions are 100 percent mine.
Holly Bush was born in western Pennsylvania to two avid readers. There was not a room in her home that did not hold a full bookcase. She worked in the hospitality industry, owning a restaurant for twenty years and recently worked as the sales and marketing director in the hospitality/tourism industry and is credited with building traffic to capacity for a local farm tour, bringing guests from twenty-two states, booked two years out. Holly has been a marketing consultant to start-up businesses and has done public speaking on the subject.
Holly has been writing all of her life and is a voracious reader of a wide variety of fiction and non-fiction, particularly political and historical works. She has written four romance novels, all set in the U.S. West in the mid 1800's. She frequently attends writing conferences, and has always been a member of a writer's group.
Holly is a gardener, a news junkie, and vice-president of her local library board and loves to spend time near the ocean. She is the proud mother of two daughters and the wife of a man more than a few years her junior.