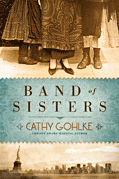 Maureen O'Reilly and her younger sister flee Ireland in hope of claiming the life promised to their father over twenty years before. After surviving the rigors of Ellis Island, Maureen learns that their benefactor, Colonel Wakefield, has died. His family, refusing to own his Civil War debt, casts her out. Alone, impoverished, and in danger of deportation, Maureen connives to obtain employment in a prominent department store. But she soon discovers that the elegant facade hides a secret that threatens every vulnerable woman in the city.
Despite her family's disapproval, Olivia Wakefield determines to honor her father's debt but can't find Maureen. Unexpected help comes from a local businessman, whom Olivia begins to see as more than an ally, even as she fears the secrets he's hiding. As women begin disappearing from the store, Olivia rallies influential ladies in her circle to help Maureen take a stand against injustice and fight for the lives of their growing band of sisters. But can either woman open her heart to divine leading or the love it might bring?
Band of Sisters by Cathy Gohlke
My rating: 5 of 5 stars

When I began this book, I honestly had no idea how prevalent the human sex trafficking business was and how long it had been going on. I was horrified to realize that such a thing as the white slavery trade was going on in this country in the late 1800's. I am still reeling from the shock of it all.

The Christian message of this book was fantastically woven into the fabric of the story in a remarkable way. I so appreciate the way that Cathy Gohlke made God and Christianity a real thing rather than just something nice on the side. The characters who were truly committed to the Lord, lived it!

The characters were so well-developed, and I connected with them on a real way. I always find it kind of funny when I actually feel like praying for the characters to make it through this situation or that situation when they are not real. But the author made the characters so alive to me that I wanted to do just that.

I appreciate the way the author wrote fairly realistic fiction. Usually, Christian books avoid great tragedies and even mention the dreaded word "sex" or "prostitution." This book handled the issue in a real way, and it made the story all that more real to me.

I was surprised to see the inclusion of the book "In His Steps." It had been a while since I had read that book, but it certainly made for an interesting turn of events. To see the characters living the philosophy "What Would Jesus Do" really did make me stop and think about the cost of following Christ--especially for those in society. This is a book I can recommend to anyone who wants to learn about a portion of history that is not normally discussed in this country.

I was sent a copy of this book in exchange for my honest review. All opinions are 100 percent mine, and I was not financially compensated.
View all my reviews
Author Bio:
Cathy Gohlke is the two-time Christy Award–winning author of William Henry is a Fine Name and I Have Seen Him in the Watchfires, which also won the American Christian Fiction Writers' Book of the Year Award and was listed by Library Journal as one of the Best Books of 2008. Her newest book, Promise Me This, was released February 1, 2012. Her next book, Band of Sisters, will release September, 2012.
Cathy has worked as a school librarian, drama director, and director of children's and education ministries. When not traipsing the hills and dales of historic sites, she, her husband, and their dog, Reilly, make their home on the banks of the Laurel Run in Maryland.
Visit Cathy at all the following places:
http://authorcathygohlke.com/
https://www.facebook.com/CathyGohlkeBooks