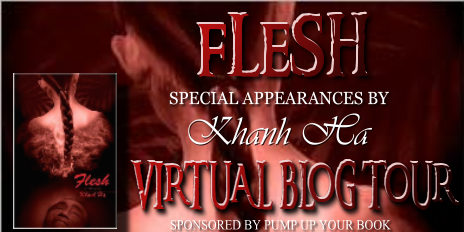 Remember my spotlight/guest
post
for this book? Read on for my review!
The setting is Tonkin (northern Vietnam) at the turn of the 20th century. A boy, Tai, witnesses the beheading of his father, a notorious bandit, and sets out to recover his head and then to find the man who betrayed his father to the authorities. On this quest, Tai's entire world will shift. FLESH takes the reader into dark and delightful places in the human condition, places where allies are not always your friends, true love hurts, and your worst enemy may bring you the most comfort. In that emotionally harrowing world, Tai must learn to deal with new responsibilities in his life while at the same time acknowledge his bond, and his resemblance, to a man he barely knew-his father. Through this story of revenge is woven a another story, one of love, but love purchased with the blood of murders Tai commits. A coming-of-age story, but also a love story, the sensuality of the author's writing style belies the sometimes brutal world he depicts.
I suppose I have somewhat mixed feelings about this book. Yes, I can agree without a doubt that this is a book that is full of history that I honestly had never heard. I know very little about Vietnam, and this told me much about nineteenth century Annam (which became Vietnam). I was horrified to discover how the people were treated by the Chinese, and the barbarism nearly sickened me. The realism of the book certainly made an impression on me.

I was somewhat turned off by the unnecessary profanity. Thankfully the bedroom scenes were not described. And sex did not seem to rule the characters in the book--which was nice. The book was so dark that I often struggled to read it. It is not an easy read. It is one of those books where you must engage your brain thoroughly as you read. I found I could not read the book at night because it was too depressing and too realistic at time.

The strength of this book (in addition to the history) is the author's descriptions. He is a master at detailed descriptions to the point that you can see it happening the way the author intended you to. The brutality in the book was descriptive but not to the point that I had to "look away." Granted, I would not have wanted to see a film of those scenes, but I felt that all the scenes were tastefully written.

While this is not a book that I would pick up for a light read, if you are in the mood for some historical fiction with intense descriptions, this is the book for you!

I was sent a copy of this book in exchange for my honest review. I was not financially compensated, and all opinions are 100 percent mine.