I am so pleased to be reviewing something yet again from
Bead for Life
. Last time, I reviewed a
bracelet
. When I had the opportunity to work with them again, I jumped at the chance.
Bead for Life is a nonprofit organization that works to erase poverty and empower women in Uganda. Shea butter in Uganda is known as "Women's Gold." They sell products made with their exquisite Shea butter in order to meet their critical needs. There are currently 760 women who are attempting to rebuild their lives through the BeadForLife Shea Project. It makes me feel so good to work with a company that helps women and their families get out from under the burden of poverty.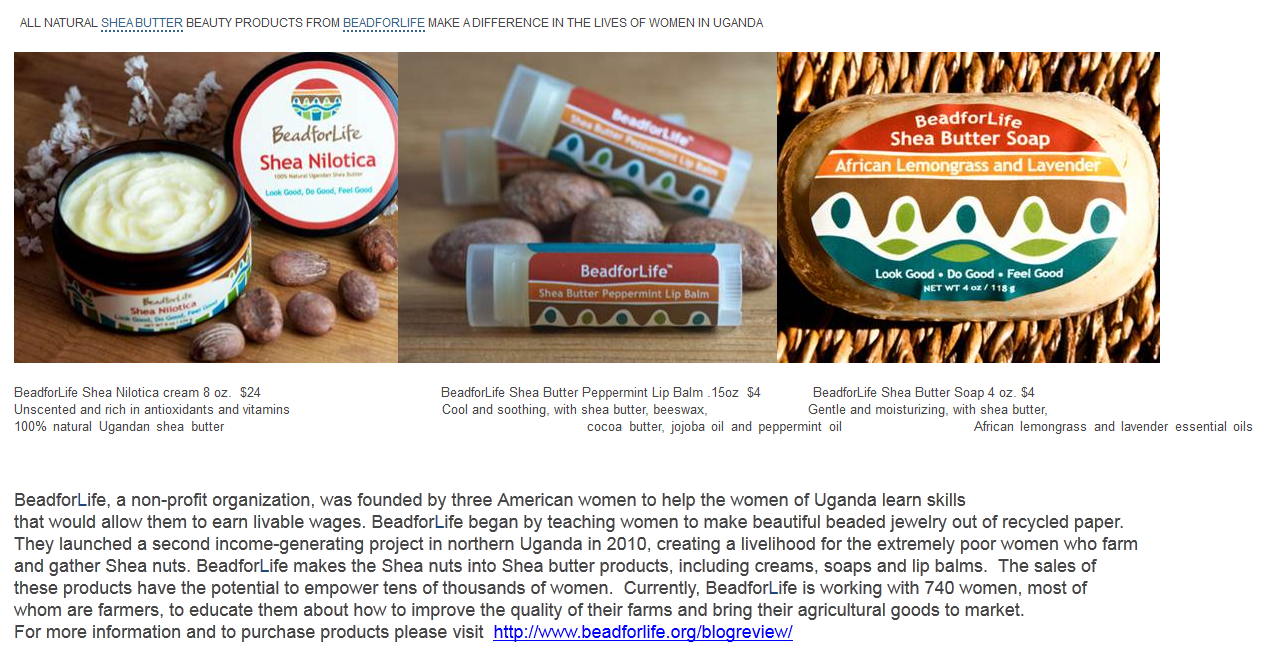 Pictured above are two of the products I was privileged to review. First, I reviewd the Shea Butter Lip Balm, and I used it at the ideal time. My lips were really feeling chapped and dry--our weather has been crazy lately. And the moment I put this on, my lips felt fantastic! I am not one who likes lip balm. I only ever found one other brand I liked, but this is now one brand that I will come back to again and again! I may just have to get it for everyone this Christmas!
Then I reviewed the Shea Butter soap. Well, what can I say? I am not a big soap fan, but I decided that I would use it in my shower. I prefer shower gel, and I rarely use soap. I was immediately taken with the little bits of rough parts in the soap. And the smell was heavenly! The soap lathered well, and I think I would have no problem with using this soap regularly in place of my shower gel. It was amazing. I even used it after I shaved my legs, and it was a fantastic moisturizer for my legs.
In conclusion, I can highly recommend the Bead for Life products (and company, for that matter), It feels good to support an organization like this, and it is great to be able to let my readers know that their products are very high quality.
This review was brought to you by Charisma Media. To learn more about services and membership please visit www.charismamedianetwork.com.
I was sent a sample of the products mentioned in exchange for my honest review. I was not financially compensated, and all opinions are 100 percent mine..