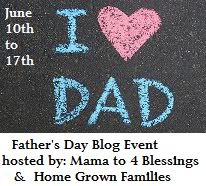 Welcome to I Love Dad -- Father's Day Giveaway Hop Event Sign Ups
This giveaway will run from June 10-June 17, and all bloggers who sign up need to provide a prize pack worth at least $20 (for dad!) and post about this hop (link back to the sign up post here). There are already a lot of people signed up, and this looks to be a great opportunity!
Calling all Bloggers! FREE EVENT! Cook'n just turned 20 and wants to celebrate! Give Oh Giveaway is hosting the giveaway valued at over $385! Join the Rafflecopter form here for FREE
http://giveohgiveaway.blogspot.com/2012/05/free-blogger-opp-cookn-is-celebrating.html
The sooner you join the better your spot on the RC form!" My twitter handle is @cjkcoupon & my page is
https://www.facebook.com/GiveOhGiveaway
so you can tag me in the post if possible! Feel free to share in your FB groups too! You may need to like my page so you can then tag me on FB! Because this is a free opp there will be no link backs. *This is open for bloggers: You must be willing to post the html code & Rafflecopter widget to your BLOG page by 1:00 am EST on the Sunday May 27th. I will email the HTML and RC share link to you via the email address you post below. Then you must share it on a social media site once your giveaway is live. NOTE-If you have a FB fan page only, you can join this giveaway, BUT I HAVE NO IDEA HOW TO WORK THE FACEBOOK CONTEST PAGE, SO PLEASE SIGN UP ONLY IF YOU KNOW HOW TO DO IT, I WON'T BE ABLE TO HELP.
What is being given away and when?
The Dates:Begins May 27th at 12:01 am and ends on June 6th at 11:59 pm Eastern time. Sorry this giveaway is for US only. :( I know that makes some of you sad. Sorry! The Sign ups: Close on 5/22 at midnight The Prizes: There will be 3 winners! See the pictures above! Prize #1- Cook'n Software and $50 Walmart Gift Card- valued at $130 Prize #2-Cook'n Software, recipe binder, and recipe cards- valued at $130 Prize #3- Cook'n Software, Old fashioned popcorn maker, & latest edition of Cook'n Magazine- valued at $125
Sounds like an awesome giveaway, so I am signing up.