WARNING: This is an adult post. Links in this post may lead to sites that are potentially inappropriate for children.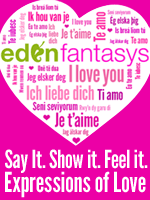 Well, it is that time of year again. The time of year when love is in the air and weddings are just around the corner. And, of course, with weddings come bridal showers. It has been ages since I attended a bridal shower. Okay, the last one was probably before I got married--back when I was 19. And I just had a traditional bridal shower with traditional gifts. But I was unusual. I already had a good stash of sexy lingerie that I had collected for nearly a year before I got married. And I was extremely naive and really didn't know much back then. And the hostess of the party probably would have been opposed to a lingerie bridal shower.
If I had to do it all over again, I would have had an intimate bridal shower with just the girls around my own age whom I knew the best. I would request for all gifts to be "intimate" in nature. In other words, appropriate gifts would be lingerie, tasteful
sex toys
, and more. I have heard about these kinds of parties, but I never have been to one. I think if the party were done in the right way, it would be a lot of fun. After all, what is the most anticipated part of the wedding? The wedding night and honeymoon, of course! Let's be honest.
Perhaps you are in a position to attend and/or host a bridal shower such as this. Let
Eden Fantasys
help you. They have just about any kind of special gift for the blushing bride that you could imagine. In fact, they have their very own
wedding shoppe
.
For a memorable wedding night, I think many brides would love this classy
Honeymoon sweet long gown
. Just the right amount of class and cleavage.
The best part about ordering from Eden Fantasys is that you never have to set food in one of those sex shops in town. You can order discreetly. And when the items arrive, even if the bride is your roommate, she will never know what is in the box. Eden Fantasys does not plaster their logo all over the box that arrives at your home. You could make this a complete surprise for the lady of the hour. And if you are truly stumped as to what get her, you can always just get a
gift card
.
In conclusion, as you prepare yourself for this wonderful wedding season, don't forget Eden Fantasys for all your bridal (and bridal gifts) needs!