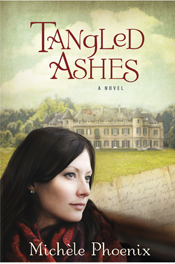 When Marshall Becker arrives in Lamorlaye, France, to begin the massive renovation of a Renaissance-era castle, he unearths a dark World War II history few in the village remember. The project that was meant to provide an escape for Becker instead becomes a gripping glimpse into the human drama that unfolded during the Nazi occupation and seems to live on in midnight disturbances and bizarre acts of vandalism.
I honestly can't believe how much I learned from this book! Historical fiction is my favorite genre for such books as these. And when you add in the fact that this is a Christian book, it really doesn't get much better than a book like this!

This is the first book I have ever read by Michele Phoenix, but I hope it won't be the last. She added so many fantastic elements to this book that I could safely say she included something for everyone. She added a little romance, a little mystery, some 3-dimensional characters, solid Christian principles, and of course a good chunk of history. She writes with such passion and detail that you just can't get bored. I appreciated the fact that she went back and forth between WWII and modern times, and this only made the story more interesting for me.

If you love historical fiction like I do, I honestly believe you will enjoy this book. Don't be put off by the religious overtones. Phoenix handles this perfectly and with great sensitivity. This is one of the best WWII historical fiction books I have ever read!

I was sent a copy of this book in exchange for my honest review. I was not financially compensated, and all opinions are 100 percent mine.
Born in France to an American mother and a Canadian father, Michele Phoenix is an international writer with multi-cultural sensitivities. A graduate of Wheaton College, she taught writing, music, and theater at the boarding school for missionaries' children she attended as a teenager. She currently works for Global Outreach Mission as an advocate for Third Culture Kids, helping them transition back into North American culture and educating stateside churches and missions about the special needs of this people group.
Michele lives in Wheaton, Illinois.
Visit michelephoenix.com for more information.