It seems to me that our hands tends to really take a beating at times. In fact, all it takes a sore fingertip to make you realize just how important those hands and fingers are. And in this technology age, we tend to spend a lot of time typing on the computer. My mom has arthritis, and my dad has carpal tunnel. I can remember getting stiff and sore hands from doing a variety of things, but I just never thought of doing anything about it. I just figured my fingers would build strength, and hopefully there would be no lasting issues.
Then I heard about
YogaHands
. I'm going to be really honest with you. I tried this the day it came, and I absolutely hated it! I followed the instructions, and I pushed the YogaHands all the way down to the base of my fingers--just like the picture showed.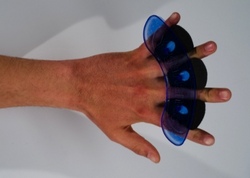 It was extremely painful to put the YogaHands on my fingers, and afterwards, my fingers ached. I knew I had to try this again, so I finally got up the nerve to try it again. I decided that I should perhaps not move the contraption down so far on my fingers. Like real yoga, I thought that maybe I needed to work towards putting it down further on my fingers. So I just barely put it on my fingers--just enough so it was stretching my fingers but not enough to be painful. And I will say that my fingers felt completely refreshed afterwards. Then my mom tried it, and my daughter tried it. (she loved it!) So I now have it near my computer, and I plan to use it regularly. And in time, my fingers should become more flexible. I can say without a doubt that your fingers and wrists will feel much more relaxed after using this!
There is plenty to check out on their site and via social media.
I received one or more of the products mentioned above for free using
Tomoson.com
. Regardless, I only recommend products or services I use personally and believe will be good for my readers.