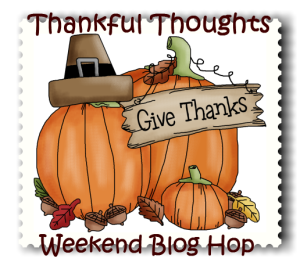 Well, I don't usually have the time to participate in blog hops any more, but I thought I would take a moment to do so. So here goes.
I am thankful for so many things in my life. I get tired of people who complain, and so you won't find complaints here--only thanks.
I am thankful first and foremost for my salvation. God loved me so much that He sent His Son to die for me, and I stand here forgiven of my sins and facing an eternity with Him. No matter how many times I say thank you to God, it will never be enough. I am in awe of His wonderful gift to me, and I can only hope and pray that my life will be a testament to His love, grace and mercy. May many more embrace the gift He has given.
I secondly am thankful for my family. I have a daughter who continually excels in school and cares about others. She is a reason for me to continue on. I have a mother who continues to provide for my needs, and she puts up with a lot from me at times. I am not the ideal daughter, but she accepts my imperfections. She has endured a lot in her lifetime, and I am grateful. I am grateful for a brother and sister-in-law who are helpful in many areas and provide support in many areas when needed.
I am also thankful for the friends that I have. I don't have a lot, but there are ones who have stuck through thick and thin with me. Too numerous to list here. I have so many people who have helped me through the years. They may never even know how much they have helped.
I have to list Martin in a separate category. He is my best friend, and although things are tough, I thank God for him. He is not saved yet, but I believe God will do a work in his life that can only make those around us say, "Wow." I will never stop believing that God will save him as long as there is breath in my body. I am so thankful for his friendship. I wouldn't be where I am today without him.
And lastly, I am thankful for the fact that I have a fairly comfortable life. I have everything I need and so many things that I want. Finances may be tight at times, but I have never had to go without common necessities.
May God's blessings rest on all of us this season!