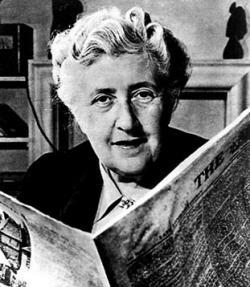 This is truly an ironic post for me. It was just tonight that I watched a film called
Ten Little Indians
based on the story by Agatha Christie. I had seen this film before, but it had been years since I had. My mom had not seen it, and she struggled to figure it out just like I had. I told her that the film had been based on a play, but I knew that there was another play that was even better received that I had never seen nor read--
The Mousetrap.
Amazingly, on this date in 1952, this was the play that opened in London. It went on to become the world's longest continuously running play--more than 20,000 performances and more than 10 million attendees.
Originally,
The Mousetrap
was a 30-minute radio play broadcast in honor of the queen's 80th birthday in 1947. It was originally called
Three Blind Mice
. It was later extended and renamed
The Mousetrap.
It was on this date in 1952 that 453 people attended the opening of this play in the Ambassodor's Theatre in London. While this play is certainly not her best (in fact some say it should be abolished), it is an audience-pleaser. Agatha Christie, the play's author, died in 1976, and it is her grandson who owns the rights to the show.
There is a lot of trivia associated with this play, but I'll let you check out the links at the end. Maybe one day I will see this. It certainly sounds intriguing.
I wish I had seen it at Lakewood Playhouse. Check out the promo:
And for more information, check these out:
http://www.history.com/this-day-in-history
http://www.shishirk.com/2010/11/mousetrap-opens-in-london/
http://www.information-britain.co.uk/famdates.php?id=803