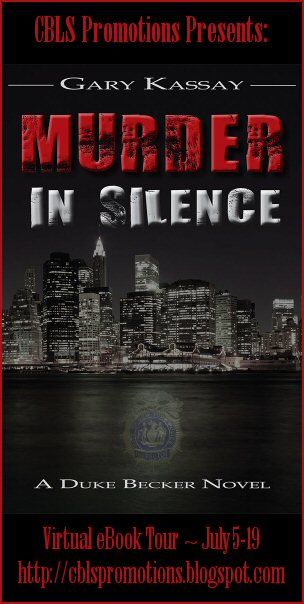 Murder in Silence (Murder, Book 1)
by Gary Kassay
Published by Sapphire Star Publishing
Mystery/Thriller/Suspense
Available at:
Sapphire Star Publishing
Blurb:
Two police officers have been brutally killed by having their throats ripped out, but the wound appears to have been done with surgical precision. With no witnesses, no forensic evidence, and two bizarre clues to follow, the case falls to Inspector Duke Becker, head of the high profile Special Investigations Unit, Homicide.
Becker and his squad must find the killer before more cops are murdered. The case will lead Becker on a wild chase through the streets of New York City, back over 15 years into the past and to a cover-up that will rock City Hall.
Along with his brash, wildly dressed young partner, Jimmy Nova, the beautiful Michelle Goldman, Augie "Doggie" Rivera, and the Mutt and Jeff team of Bobby Green and Joe Robinson, Becker will need to enlist his boyhood friend in charge of CSU, Manny Velez.
Add a ruthless newswoman known to the NYPD as ""Wicked Witch Wilson" and a new love interest for Becker in the gorgeous and brilliant Dr. Elizabeth Cunningham, Becker is about to embark on the most difficult and dangerous case in his 20 plus years. Will Becker and his squad be able to catch the killer before more cops die or will the killer have the last laugh?
Excerpt:
About the Author:
Gary Kassay, author of the Duke Becker Series, is a former member of the NYPD Transit K-9 Unit. Besides a career as a Police Officer, he has been the owner of a commercial photo company, an X-ray tech for humans and animals, and a TSA employee. He now resides in Casper, Wyoming with his wife Raella, three dogs, and one black cat.
When Gary is not working on the next installment of his Duke Becker series, he enjoys spending quiet times with his wife, reading, and when there isn't snow on the ground, a good round of golf.
SSP Author Page:
http://www.sapphirestarpublishing.com/garykassay
Author Website:
http://www.garykassay.com/
Facebook:
https://www.facebook.com/pages/Gary-Kassay/213580462002084
Twitter:
https://twitter.com/#!/GaryKassay
Guest Post by the Author
I would like to thank Ruth Hill from My Devotional Thoughts for inviting me to her blog.
It is an honor to be included here and I thank Ruth for posting my guest blog.
The first of the Duke Becker series, Murder in Silence, is being released on 07-05-12. Let me give you a little background on myself and the inspiration for Inspector Duke Becker. Back in 1982 I was in training with the New York Transit Police Department for the Canine Unit. The training was intense and probably the best time I ever had. One day an event occurred and I immediately thought to myself what a great plot for a book! (No, I am not going to tell you what that event was…it would spoil everything.) In any case, I thought about that book till 2004, 22 years of developing the plot, characters and dialogue. The result is Murder in Silence and the sequels that will follow. Here is a small sample from Murder in Silence…I hope you enjoy it!
I grew up in Bayside, which was not far from where I live
now in Bellerose. I pulled up to my childhood home with a full six
minutes to spare.
For a minute, I stood looking around the place as memories
played like a movie on a screen. Stryker and I running to greet Dad
who was in uniform, looking so big and strong. A snowball fight
with Mom yelling at us to come inside. She slipped on the snow and
both of us jumped on her, our laughter filling the air.
There were a lot of good memories, and I found myself
smiling at them until I remembered the bad ones.
Mom and Dad standing at the front door, their faces ashen
as tears streamed down their cheeks as a captain informed them
that Stryker had been killed in the line of duty. Just two short
months later, leading Mom into the limousine for Dad's funeral.
I shook myself out of the memories and prepared for
another round of Mother Knows Best.
I walked up to the front door with one minute to spare and
turned the doorknob, which easily opened. As usual, Mom had not
locked the door, even though I chided her for it all the time.
In the foyer, I stopped to take in a deep breath, the aroma of
Mom's cooking filling the air. To my left was the living room, and I
stopped to look at the many letters of commendations, awards and
pictures of Dad and Stryker that they had received in their careers.
None of mine were in this room. Instead she kept them in another
room. I think Mom thought it was bad luck to have them together.
As a kid, I'd been so proud to look at them and loved each
time a new award or commendation was added, but now looking at
it just made me sad.
Walking into the kitchen, I saw Mom …
If you would like to win a copy of this book, please enter the rafflecopter below. There will be 15 e-copies of the book awarded, so be sure to enter here, and don't forget to follow the rest of the tour here. This giveaway ends at 9:00 P.M. Pacific time on July 24. Best of wishes to all of you!
a Rafflecopter giveaway