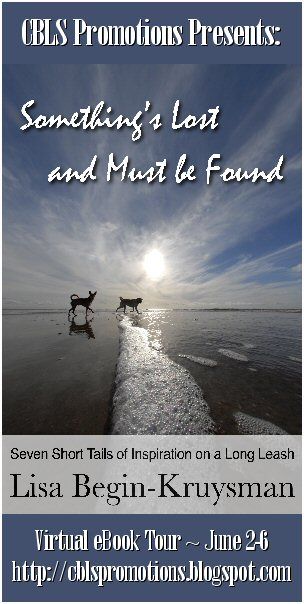 Something's Lost and Must be Found
by Lisa Begin-Kruysman
Self-Published
Non-Fiction, Animal Care & Pets, Dogs
Available at:
Amazon (Paperback)
|
Amazon (Kindle Edition)
Currently boasting 37 Five Star Reviews on Amazon! Recently nominated as a "give-away" for World Book Night by an avid dog-book reader.
Blurb:
The seven short tales in this collection were written by a dog-lover to be enjoyed by those who cherish or are guardians of man's best friends. Each story stands alone, connected only by a theme of things "lost and found." In each instance characters find resolution through the help of some search and rescue dogs of the soul; a mother coping with a tragic loss, a father trying to reconnect with his son, a teen-age girl dealing with some weighty issues, a jobless young man attempting to regain his humanity, a single woman searching for self-worth, and a loyal dog-owner watching over his beloved dog that is searching for his "true and happy home."
These stories evoke that feeling a human gets when after letting a dog off-leash to run freely, their best furry friend returns for a mini-reunion, requesting to be led back home. At that moment all is right in the world. Even those who aren't among the legion of dog-loving Americans can make a personal connection with these stories, one that resonates in some area of their life.
Excerpt From Title Story
I walked down the road calling "Tony, Tony," like a robotic recording, wandering down to the shoreline where happy beachgoers and their dogs scurried and skidded in the sand, darting in and out of the foamy residue of receding waves. Scanning the horizon I hoped for a glimpse of Antonio, trying not to think of his fate if he'd been pulled out to sea by the tide.
Not ready to return home, I left the beach, traveling on a path that led away from the condo. Above me, twisted branches of Live Oak dripping with feathery grey Spanish moss arched and met forming a canopy. In the dark tunnel of trees I cursed this place, a place I had trusted to help me heal, no longer a last resort for hope; but a tourist trap of lost souls.
What had happened to my heart? I wondered bitterly. It had become so hardened that I'd been unable to offer love to a poor little dog when he'd needed it most. Now I would probably never get another chance.
This collection of short stories missed getting a five star rating by just one story. That may sound strange, but read on, and I think you will understand. It was overall excellent reading, but there were a couple "glitches," in my opinion.

I am a pushover for animal stories--especially good ones. I absolutely loved and connected with the first few stories in the book. I loved to see how the dogs opened up wonderful words for people, and it was neat to see the true bond between the dogs and people. I almost hoped that the stories were real. They seemed to be, so I was pretty excited to keep reading.

Until I got to the story about the man in Mexico--The Happiest Dog Hotel. I was enjoying this story, too, until the man died and went to the afterlife. I felt that this story pushed into uncharted territory that did not make sense. I don't read paranormal--that is true. But it would have been much nicer if the story had ended a little differently since all the other stories left me with a warm, fuzzy feeling. This story did not. I also noticed that this story was where profanity began to show up a little bit more. Thankfully it was not too rampant, but this story was the fly in the ointment for me.

I enjoyed the writing style of this author, and thankfully, the book was an easy read. If you love animals, this will be a big hit with you!

I was sent a copy of this book in exchange for my honest review. All opinions are 100 percent mine, and I was not financially compensated in any way.
Lisa Begin-Kruysman lives in Ocean County, New Jersey, with her husband, Rich and Portuguese water dog, Hooper. Her short fiction has garnered national recognition in writing competitions sponsored by Calliope Writers and Writer's Digest Magazine. In 2010, the author launched a blog dedicated to the venerable National Dog Week Movement established in 1928. With over one-hundred posts to-date, she has learned that now, more than ever, there is a need for an intelligent exchange about the state of the dog in the states of the nation. To learn more about National Dog Week and to be part of the next chapter, please go to http://nationaldogweekbook.wordpress.com. In an informed and enlightened world, every dog can have its day and hopefully its week, too.
Guest Post by Author
Lisa Begin-Kruysman
People often ask me about the title of my books and short works. To me, they are as important as the stories themselves. Sometimes a rather ordinary word or phrase takes on a new meaning for no reason at all, other times, I may hear something that is completely new to me and it haunts me, demanding to be used as a title. Such was the case with SOMETHING'S LOST AND MUST BE FOUND.
"Tony, Tony come around, something's lost and must be found." The more formal use of Anthony for Tony is often used and I have heard the phrase "turn around," substituted for, "come around." It doesn't really matter, for in the end, it is the desired result that counts.
These plaintive words are derived from a prayer that is recited to St. Anthony of Padua when an item, person or pet has been lost or something less tangible like faith, hope or joy are missing from one's life.
The most engaging fiction that can be written is that which is based on experience an author has felt in their bones. Such was the case for me when I wrote the seven short stories of SOMETHING'S LOST. The title story was born when my husband and I actually thought we had lost our beloved dog while vacationing on Amelia Island in northern Florida. Through a confluence of unfortunate events, we did not know she was actually hiding in the back of a large dark closet in a room we were not using and were led to believe by false reporting that she was out wandering alone. While out searching from my "lost" dog, I met a woman who told me to recite the prayer to St. Anthony. I had never heard the prayer before. You will have to read that story to find out what happened, but I will say that what I felt at the moment we were reunited with her will stay with me forever.
Grooming Conversation, the moving story of a father and son trying to reconnect while grooming the family dog was inspired by an actual conversation I had with a close friend. The sly and cynical Stipend of a Sucker tickled my brain as I was captivated by a woman on a call-in radio talk show. The dark Human Directional came about after I actually watched a Human Directional at work while waiting at a stop light and then read a terrible story about the death of a man who owned a retail show that sold puppies acquired through puppy mills. I merged the two events and a story was born.
By showing, not telling, readers about the way we find resolution and hope through those quiet moments with our dogs, (and other pets) I hope to inspire more humans to think of these companion animals as valuable members of our families and communities. After two years of blogging about dogs, I realized that I was really writing about human nature. So many inspiring individuals dedicate time, energy and money to help our dogs and in doing so, are really helping themselves and their fellow man in countless ways. I wanted to write about these experiences and also about those times when man's best friend returns the favor by engaging in some "Divine Reciprocity."
Despite the efforts of so many good people, millions of companion animals are suffering, homeless or are being disposed of each day and in many ways our humanity has truly been lost… and must be found. That process starts with enlightenment, understanding, compassion and faith.
Enter the rafflecopter below for a chance to win an e-book copy of this short story collection. And be sure to check out the entire tour
here
.
a Rafflecopter giveaway