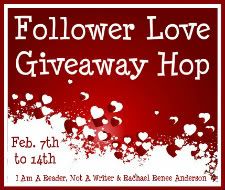 Welcome to the Follower Love Giveaway Hop. This hop is hosted by I Am A Reader, Not A Writer and is co-hosted by my good friend author
Rachael Renee Anderson
.
Almost 300 blogs are each hosting a giveaway as part of this hop which runs from February 7th to 14th.
My giveaway is two-fold. You will enter on the same form for both, but one if open internationally, and one is open only in the U.S.
I happened to see a neat idea on another blog, and I thought I would incorporate this into this giveaway. Here are the prizes I will be giving away:
1. One international winner will win a cookbook of his/her choice not to exceed $15. I may get this from any number of places depending on the country to which I am shipping. It will probably be book depository, but I am also open to e-books, if you prefer.
2. One U.S. winner will receive a $10 gift card to a restaurant from a list I will provide upon winning. I will be turning in some points at one of my points or survey sites.
All I will need for you to do is enter on the rafflecopter form below (unless it says to leave of comment or otherwise). The giveaway will end February 14 at 9 P.M. Pacific time.
And don't forget to hop onto the other blogs below!
a Rafflecopter giveaway