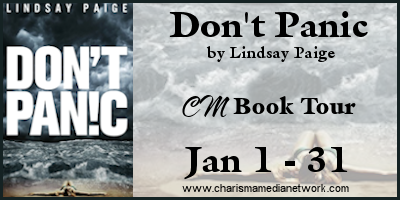 Samantha Branson is having severe anxiety attacks. Her heart beats unusually fast, her breath quickens and her hands sweat. Every detail screams in her head that she is the center of unwanted attention. Everyone can hear her thoughts, her heart and her breathing. The silence of the classroom is so loud that focus is impossible.
After an attack lands her in the wrong bathroom, Sam meets Eli who offers to provide help. Faced with the return of her possessive ex-boyfriend and the blossoming of a new romance, Sam must find the strength inside herself to face her anxieties head on.
Don't Panic by Lindsay Paige
My rating: 3 of 5 stars
This is a perfect young adult book that tackles real issues with a nice love story on the side. The profanity is very minimal, and there are no sex scenes. The characters are quite relatable, and I think that young people would understand this story in ways that I cannot. The story is not complex, and it was good to see the teens getting the help they needed.

For me, this book was just average, but that is only because I am not a teen, and I don't know anything about panic attacks. It makes me want to look up information, and I hope that the author has some helps on her site to direct teens to places for help if they experience panic attacks. I wish she would have had a section in the book at the end that could direct teens to the help they need. Any of my criticisms shouldn't bother young adult enthusiasts. For me, young adult books are hit and miss. Typical young adult books--this book is one of them--don't often resonate with me, but it does not mean that I don't see the great importance of this book.

I was sent a copy of this book in exchange for my honest review. I was not financially compensated, and all opinions are 100 percent mine.
View all my reviews
Buy the book here.
About the Author
Lindsay Paige is a young adult romance author from North Carolina. Most of what Lindsay writes are her daydreams in lavish details. (Please excuse that fact when you read one of her future works about a girl who sleeps around.;)) When not writing, she is working to complete her first year of college.
Lindsay loves to read, listen to music, watch and play tennis, along with watching her favorite hockey team, the Pittsburgh Penguins. Lindsay is a big fan of Sidney Crosby (87) and buys Penguins merchandise whenever she can.
Lindsay loves to be around her family and best friends. One summer after viewing a
video of Nicholas Sparks' house
, Lindsay's mother made the comment that she should write a bestselling novel since she "reads so much", that way they could have a beautiful house as well. Lindsay took her comment to heart. She began working on
Sweetness.
A year later, the novel was complete.
Many of the aspects of the characters in
Sweetness
were inspired by Lindsay's own struggles, such as a recovering alcoholic father and the anxiety Emily suffers because of her past.
Lindsay has published
Sweetness,
I'm Yours,
Whatever It Takes,
and
Don't Panic
. She is currently working on book four in the series, a work titled
Rejection
, and a few other minor works.
Check here out here.